A three year research project has just been started in the Department supported by the CMI (Cambridge-MIT Institute).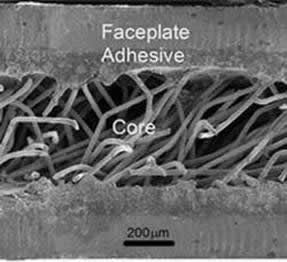 It is concerned with the development of a novel ultra-light steel sandwich sheet, termed a hybrid stainless steel assembly (HSSA), composed of thin steel faceplates and a core containing steel fibres. The sheet, which has a wide range of potential applications, is light, stiff, formable, weldable and has attractive vibration damping and energy absorption properties.
The project is being led by Bill Stronge (CUED) and Bill Clyne (Materials Science and Metallurgy) in Cambridge and by Tom Wierzbicki and Subra Suresh at MIT and involves a consortium of a dozen industrial partners. A website has been set up giving details of the project.