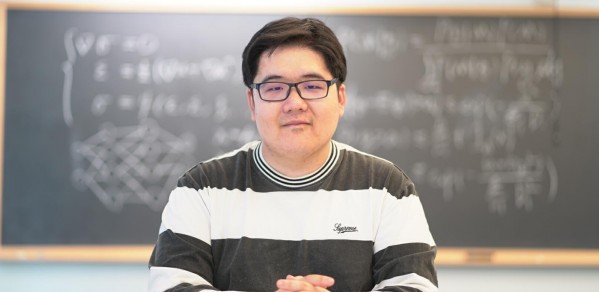 Burigede Liu has been appointed the new Granta Design Lectureship in Engineering.
By identifying and formulating the appropriate data-driven frameworks and algorithms for the mechanical problem, we can significantly reduce the cost of the development and increase the fidelity of our design. 

Burigede Liu
Burigede joins the Department from Caltech Department of Mechanical and Civil Engineering. He is interviewed below: 
What is the best career decision you've made? 
Joining Caltech as a Postdoctoral Associate. It has been an eye-opening experience as I had the opportunity to collaborate with world leading experts in mechanics, applied mathematics and machine learning. 
When did it become clear to you that you wanted to pursue a career in research? 
During my Ph.D. study at Cambridge. Cambridge provided an encouraging and supportive academic environment which allowed me to pursue any directions that were of interest to me. I truly enjoyed working as a scholar and solving challenging engineering problems which have important real-life applications. 
How did you get interested in the field of mechanics of materials? 
I developed an excitement for mechanics when I was learning the Ashby plot as an undergraduate student majoring in the field. I was fascinated by the fact that a combination of rigorous mathematical analysis and deep physical insights can result in simple yet powerful mechanical principles which govern complicated material behaviors. I love the fact that the research in mechanics of materials have substantially changed the world and is continuously driving the development of novel materials/structures which meet the grand challenge in our society. 
What are the potential applications? 
Development of cutting-edge material/structural systems (e.g. high entropy alloys, architecture materials and next-gen armors/engines) as well as quantifying the associated uncertainties in integral material response. Field theory has provided a mathematically rigorous ground for predicting the complex behavior of solid materials. But lack of precise knowledge on the relations between the conjugate fields (e.g. stress and strain), together with uncertainties originated from and propagating through different length scales can lead to poor/unsafe designs. Data-driven methods provide a new avenue to address these challenges. Nowadays rich data is available from advanced experimental measurements and multi-scale computations. By identifying and formulating the appropriate data-driven frameworks and algorithms for the mechanical problem, we can significantly reduce the cost of the development and increase the fidelity of our design. 
What motivates your work more — the experiments or the applications? 
The motivation of my work is always applications. As my mentor Professor Michael Ortiz once said, "solid mechanicians act as a bridge between fundamental science and industry". As an engineer my motivation is the end application. We always start with a clear goal on the application and use advanced tools originated from applied mathematics, machine learning and computational mechanics to solve these problems. 
How has working in this field affected your career decisions? 
Data driven methods in mechanics of materials is a new and rapidly developing field. It forces us to rethink/re-evaluate our approach to mechanical problems from a different perspective. For example, a traditionally considered "bad experiment" which generates an inhomogeneous displacement field might become favorable in the data-driven world as it generates rich data and provides more information of the material. Working in this field is challenging as we have to think outside of the box and come up with novel/creative solutions to well established problems that will last for decades. I therefore decided to pursue my career as an academic because I see that working in this field is stimulating and intellectually rewarding. 
Granta Design Limited was spun-out of the Engineering Department in 1994 to develop materials information software, based on the work of Professor Mike Ashby and Professor David Cebon. The company was acquired by Ansys Inc. in 2019. 
Burigede Liu's lectureship is one of two posts endowed by Ashby and Cebon. The bequest is to enhance teaching and research as well as to recognise the contribution of the Engineering Department and the University to the formation and development of Granta Design.