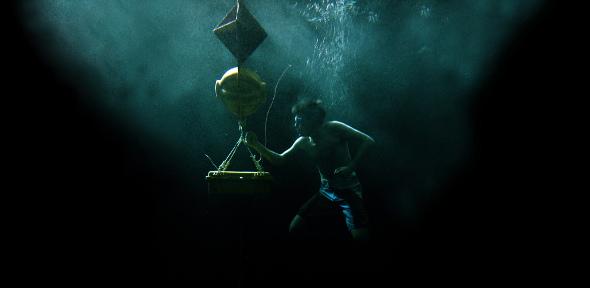 First prize - Project Pebble
Ben Sheppard and Robert Howshall
The winning image in the Nokia Photography Competition recently held at the Department of Engineering, was taken by Ben Sheppard and Robert Howshall, fourth year undergraduates due to graduate this summer. They will receive the first prize of a Nokia N95 8GB phone that has been generously donated by Nokia.
In 2009 a small team at the Department of Engineering designed and built a low-cost, deep-sea photographic vessel. This photograph shows "Pebble" undergoing pool trials at Cranfield University. Whilst deep-sea photography has been done before, Pebble differed in one key respect. Cost. Pebble was built for £1800, making her tens of times less expensive than comparable deep-sea craft. This was achieved by using off-the-shelf components, almost no moving parts, and a pressure-balanced design. It is planned that subsequent years of Cambridge undergraduate engineers will improve the design and reduce the cost to less than £1000, making deep sea photography more affordable than ever before. Project Pebble was sponsored by BAE Systems Submarine Solutions, and supported by Tritech International, EADS, and Pentax.
More information on the project along with a gallery of photos can be found at: www.projectpebble.co.uk
Second prize - Synapse
Ivan Minev and Rami Louca
The photo that has won second prize, was taken by Ivan Minev and Rami Louca, PhD students at The Nanoscience Centre. They will receive the second prize of a Nokia 5800 touchscreen phone which has been generously donated by Nokia.
In his research Ivan uses techniques developed by the semiconductor industry and apply them to soft materials that can be flexed and stretched. This novel approach will help to bridge the gap between rigid electronics and that of soft, living matter. Ivan will explore applications in prosthetics and tissue engineering. This Scanning Electron Microscope micrograph illustrates an experiment where Ivan fabricated a matrix of micro features. The features are small enough for biological cells to detect and interact with. This would enable Ivan and his team to study how the surrounding environment influences the many decisions a cell needs to make during its life cycle. The image invokes analogies with a neural circuit. You can see several 'neurons'; their cell bodies are large and round. They even project axons which join together in a synapse, the site where the electrical signal from one neuron jumps to the next.
The second prize photo: Synapse
For more information contact:
Ivan Minev email: irm33@cam.ac.uk
Supervisor Dr Stephanie Lacour
Third prize - Rumble
Isil Ayranci Kilinc
The photograph that has won third prize was taken by Dr Isil Ayranci Kilinc a Research Associate in the Energy, Fluid Dynamics and Turbomachinery Division, she will receive the third prize of Nokia 5310 - Comes With Music edition that has been generously donated by Nokia.
The array of images shows an aero-engine gas turbine burner flame oscillating due to self-excited combustion instabilities at low frequency which is a state termed as 'rumble'. The flow direction is from left to right and flame is observed to oscillate between a blue/violet lean premixed combustion mode and a brushy turbulent diffusion flame characterized by bright yellow soot incandescence. The frames were captured from a digital video recorded at Cambridge Intermediate Pressure Combustion Facility (CIPCF) during experimental investigation of combustion instabilities on a prototype low-NOx lean direct injection (LDI) burner. LDI technology offers a strong potential to reduce aircraft pollutant emissions but lean burn conditions are prone to combustion instabilities which have to be eliminated as they may damage engine parts by inducing acoustic resonance. CIPCF is funded by EPSRC and Rolls Royce plc.
The third prize photo: Rumble
For more information contact:
Isil Ayranci Kilinc email: ia262@cam.ac.uk
Supervisor Professor Simone Hochgreb
Other entries in the Department's 2009 photo competition can be seen at www.eng.cam.ac.uk/photocomp/2009/
© Copyright notice
You may copy an image from the photography competition, reproduce it, and distribute it, but only if you clearly attribute the image to the student or academic who took the photograph, state that they work in the Department of Engineering at the University of Cambridge, and acknowledge Nokia's sponsorship of the competition. It would also be courteous to provide a links to www.eng.cam.ac.uk and www.nokia.com We would be delighted to hear where the images have been used. Please contact marketing@eng.cam.ac.uk to let us know.