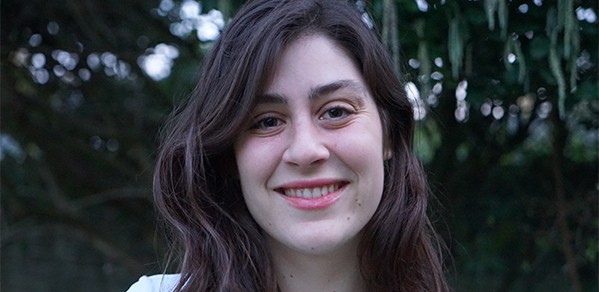 PhD student Lorena Gordillo-Dagallier has been announced a winner of the Women4Climate Tech Challenge 2020 after successfully pitching a community-driven air quality monitoring project.
This is such an exciting opportunity to work closely with the cities of Lisbon and Stockholm in engaging citizens in the fight for clean air.

PhD student Lorena Gordillo-Dagallier
Lorena, who is in the second year of her PhD at the Centre for Doctoral Training in Sensor Technologies for a Healthy and Sustainable Future, will see the initiative she co-founded – open-seneca – brought to life in Stockholm, Sweden, and Lisbon, Portugal. Full support and funding will be provided for the pilot project by the Women4Climate Tech Challenge – a joint initiative from C40 Cities and the VELUX Group. 
Open-seneca is an initiative working to highlight and install mobile air quality sensor networks throughout cities. Data is captured and recorded by volunteer 'citizen scientists'. The aim of the initiative is to raise awareness within communities about personal exposure to particulate pollution, while creating pollution maps that can be used to inform policy and urban development.
In addition to providing sensors, the initiative also aims to educate communities through a series of practical workshops in the hope to change attitudes. By hosting workshops prior to each deployment, the project demonstrates and explains the effects of air pollution on both public health and the environment. These interactive sessions share practical solutions for citizens and work to drive behavioural change.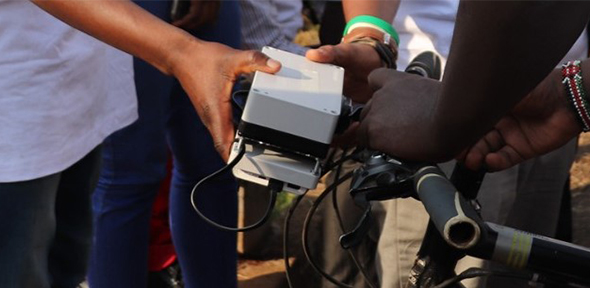 Lorena, a St Catharine's College student who carries out her PhD research at the Department of Chemical Engineering and Biotechnology and the Institute for Manufacturing (IfM), said: "This is such an exciting opportunity to work closely with the cities of Lisbon and Stockholm in engaging citizens in the fight for clean air. 
"We all hear every day about the problems of air pollution and climate change. However, most people do not see it as a personal issue and there is a lack of motivation for change. I used to be one of them. But now I am aware, and I want to raise awareness around me. With open-seneca, I am committed to drive behavioural change and bridge the step between individuals and cities to build a healthier and greener future."
She added: "It was a very rewarding experience to get to work with other finalists in preparation for the final pitch and see everyone deliver such inspiring pitches. I would like to thank the organisers for bringing us together and all the support we've received over these past months. 
"Having open-seneca as one of the winning projects has only been possible thanks to our very passionate team and all the support received from the University of Cambridge, especially the Sensor CDT, the Centre for Global Equality, and our partners all over the world. Thank you to you all."
Fernando Medina, Mayor of Lisbon, said: "The W4C Tech Challenge competition was fierce, with a lot of very high-level applicants. However, open-seneca combines two of Lisbon's core values: citizenship engagement and sustainability. By collecting and sharing data on their own exposure to air pollution, we will empower citizens to think about air quality and what each one of us can do to improve it. We're excited to have the opportunity to pilot this technology so we can, in the near future, use this data for better informed decisions."
Anna König Jerlmyr, Mayor of Stockholm, said: "By gamifying air quality measurement and pairing it to bike commuting, we are confident that open-seneca has the potential to increase the well-being of our citizens. We strongly believe that involving citizens can help raise awareness on the impact of air quality and the need to rethink the design and mobility modes in our cities."
About open-seneca
The open-seneca initiative began in 2018 and since then it has deployed pilot citizen science networks of low-cost air quality sensors in cities in the UK (Cambridge), Argentina (Buenos Aires and Mendoza), Kenya (Nairobi), and Brazil (Belo Horizonte). Alongside Lorena Gordillo-Dagallier, the team includes Sebastian Horstmann, PhD student at the Institute for Manufacturing (IfM), Peter Pedersen, Christoph Franck, Charles Christensen and Raphaël Jacquat. They have in-depth experience in the design of open-source, mobile, low-cost air quality monitors and capacity building in partner cities; the education and engagement of citizens; and calibration, analysis, and visualisation of the data collected with the low-cost sensors to aid with decision making.
About the Women4Climate Tech Challenge
The Challenge aims to support and promote diversity and inclusion in technology, innovation and the built environment sectors. All the projects judged in the competition were led by women.