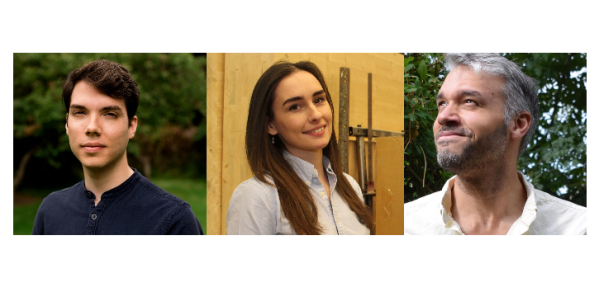 A team of 3 PhD students have been awarded business-led innovation funding by Innovate UK.
The team will work together on an inventive software platform known as SOAP to help control the spread of Covid-19 in displaced communities and refugee camps. 
Jennifer Ward George, Victor Parchment, and Alex Tsompanidis will work together on an inventive software platform known as SOAP to help control the spread of COVID-19 in displaced communities and refugee camps. 
The grant was awarded to Miniature Ltd, through which the team of students were able to co-author this exciting new proposal for software that streamlines COVID-19 triage in refugee camps, by standardising the clinical interview process, facilitating symptom monitoring and sorting questions according to the most probable prognostic outcome for the disease. The software will also create an early warning system that will help with containment of transmission and the efficient use of resources. 
As the UK and the rest of the world shelters at home, there are some communities unable to do so, and sadly, the UN reported that that figure hit 1% of humanity. This team, all part of the Peterhouse College MCR (graduate student society) have come together to help tackle this global problem. 
The Team
Jennifer Ward George is Design Fellow for the Royal Commission for the Exhibition of 1851, and a PhD researcher in Engineering. She is also the co-chair of the Sustainable Shelter Group at the Centre for the Study of Global Human Movement, and incoming President of Peterhouse MCR. Jennifer's research focuses on the shelter projects and decision-making in post-conflict and post disaster displacement situations. It includes discussions with governments, international NGOs, Global Cluster Groups, and the private sector. 
Project lead, Victor Parchment is Chief Executive Officer of Miniature Ltd, a software start-up that develops humanitarian and environmental knowledge management systems. Student Fellow at the Leverhulme Centre, former Secretary of the Peterhouse MCR, and PhD researcher, Victor works at the intersection of human factors design and Artificial Intelligence in Medicine. He has been programming for 20 years, primarily in medical software and user interface design. 
Alex Tsompanidis is a medical graduate, PhD researcher at the Autism Research Centre and outgoing Secretary of Peterhouse MCR. He is studying the effects of prenatal factors in neurodevelopment. He previously trained as a clinician in Greece during the economic crisis, collaborated with the Harvard School of Public Health and worked as a junior doctor at the John Radcliffe Hospital in Oxford. With a background in Clinical Medicine, Genetics and Endocrinology, his interests extend to the integration of findings from research and clinical practice, in order to improve healthcare outcomes.