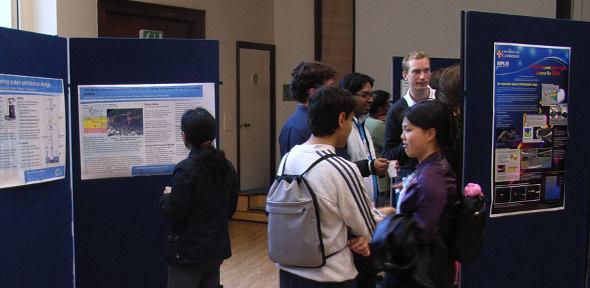 Graduate Students at Cambridge University Engineering Department ((GS)CUED) held their first annual Engineering postgraduate poster competition. The event was a great success with approximately twenty poster presenters and many more interested viewers. All in all it was a great opportunity for poster presenters to demonstrate their research, and for viewers to learn more about the research some of their peers are conducting. Special thanks is extended to Professor Norman Fleck for judging the competition.
The following students were awarded prizes:
Mark Schenk - Advanced Structures Group Laboratory (winner)
Alex MacDonald - Advanced Structures Group Laboratory (runner-up)
David Wyatt - Engineering Design Centre (runner-up)
All three winning posters will now automatically be entered in the Vitae East of England Hub poster competition with an opportunity to win a prize of £500.
(GS)CUED is a student-led initiative that aims to bring together the many postgraduate students in the Department of Engineering, to strengthen communication between students and with the Department, and improve student life. All Engineering postgraduates, including students in one-year programs, are welcome and encouraged to participate in (GS)CUED activities.