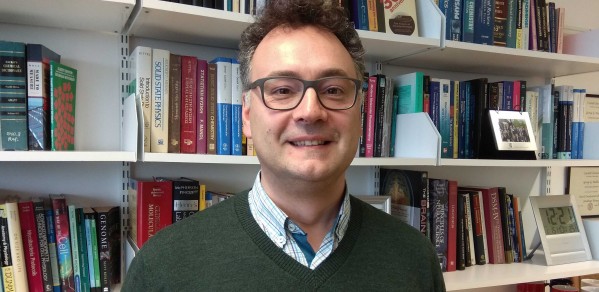 George Malliaras has been appointed as the Prince Philip Professor of Technology. The University established the Prince Philip Professorship of Technology in recognition of the contribution made by HRH Prince Philip as Chancellor of the University.
I am delighted to be here and look forward to establishing new collaborations with local groups

Professor George Malliaras
Professor Malliaras' group within the Electrical Engineering Division, is interested in bioelectronics. Research themes include the design and validation of implantable devices to interface with the brain, with the aim of understanding and treating neurological disorders. They also include the realisation of electronic devices and circuits that mimic some of the computational features of the brain.
Professor Malliaras received a BS in Physics from the Aristotle University (Greece) in 1991, and a PhD in Mathematics and Physical Sciences, cum laude, from the University of Groningen (the Netherlands) in 1995. After postdocs at the University of Groningen and at the IBM Almaden Research Center (California), he joined the faculty in the Department of Materials Science and Engineering at Cornell University (New York) in 1999.
From 2006 to 2009 he served as the Lester B. Knight Director of the Cornell NanoScale Science & Technology Facility. He moved to the Ecole des Mines de St. Etienne (France) in 2009, where he started the Department of Bioelectronics and served as Department Head. He joined the University of Cambridge as the Prince Philip Professor of Technology in September 2017.
His research on organic electronics and bioelectronics has been recognised with awards from the New York Academy of Sciences (Blavatnik Award), the US National Science Foundation, and DuPont. He is a member of the Hellenic National Council for Research and Technology, a Fellow of the Materials Research Society and of the Royal Society of Chemistry, and serves as an Associate Editor of Science Advances.
Google Scholar link https://scholar.google.co.jp/citations?user=66BcnF0AAAAJ&hl=en&oi=ao