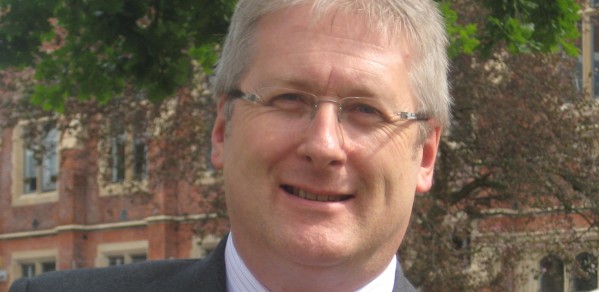 At a time in which the world's healthcare systems are being challenged in ways never seen before, the faculty of Industrial Design Engineering (IDE) at Delft University of Technology (TU Delft), is strengthening its team with an outstanding new member. John Clarkson, Professor of Engineering Design at the University of Cambridge has been appointed as part-time full professor at IDE, joining Professor Richard Goossens' team.
I am very much looking forward to building links with students and faculty over the coming years and developing a fruitful collaborative partnership between TU Delft and the University of Cambridge.

John Clarkson, Professor of Engineering Design
Richard enthuses: "John has a long track record in design for healthcare projects, as well as in research and education. He will help us to further implement the systems approach in health and care design. We are looking forward to working with him over the coming years."
John Clarkson is a Cambridge trained engineer, with degrees in Electrical Sciences and Electrical Machines, who has a passion for translating engineering systems approaches into methods for healthcare improvement. His early career with PA Consulting Group led to his engagement in areas ranging from the design of fire training systems for the Royal Navy to the provision of automated manufacturing systems for the pharmaceutical and medical device industries.
On his return to the University of Cambridge in 1995, John developed research interests in design process and change management, working with companies such as Rolls-Royce, Leonardo (formally Westland helicopters) and Jaguar Land Rover, and inclusive and healthcare design, working with the Royal College of Art, Healthcare Trusts and designers. For more than 25 years he has led the Cambridge Engineering Design Centre, which undertakes fundamental and applied research to generate knowledge that improves the design process. Its work is driven both by intellectual curiosity and industrial collaboration, resulting in understanding, methods and tools that shape design theory and design practice.
What emerges from these years of research and practice across the domains of engineering and industrial design is a fascination for how engineers think, best summarised in two questions – "How can we make it better?" and "What could possibly go wrong?" These questions have informed John's most recent work that brings together his passion for engineering and healthcare. He led the team from the Royal Academy of Engineering, the Royal College of Physicians and the Academy of Medical Sciences that produced Engineering Better Care, a report that combines a wider series of questions drawn from perspectives on people, systems, design, risk and management, to guide and facilitate a systems approach to health and care design and continuous improvement. 
John has spent the past three years translating this report into a practical toolkit called Improving Improvement - A toolkit for Engineering Better Care, which was launched by the Royal Academy of Engineering last year. This toolkit now forms the basis of ongoing research into Improving Improvement, with applications in hospital care, community care, mental health and medical device development, complemented by further translation of the work into the world of government and policy making. At the same time he has been working with his team to open an Engineering Better Care laboratory within the local hospital, where he also sits on the Board of Governors, to deliver improvement with clinicians, scientists and care providers.
John's connection with TU Delft started from a distance, driven by a high regard for the research and education emerging from the Industrial Design Engineering faculty. More recently his former PhD and Postdoc, Carlos Cardoso, was an Assistant Professor at IDE, and in 2013 he was a member of the audit panel that reviewed Dutch Industrial Design Courses, enabling an extended tour of IDE and review of their work. Then a chance conversation with the Dean of the Faculty, Ena Voûte, in IDE at the 22nd International Conference on Engineering Design (ICED19), led to an invitation to join the Department of Human-Centered Design and contribute to the wider Health Challenge.
John says: "This is an enormous privilege for me to be able to join a dynamic team who care about linking the power of design, systems and engineering thinking to the needs and wellbeing of patients and the wider population. 
"I am very much looking forward to building links with students and faculty over the coming years and developing a fruitful collaborative partnership between TU Delft and the University of Cambridge."