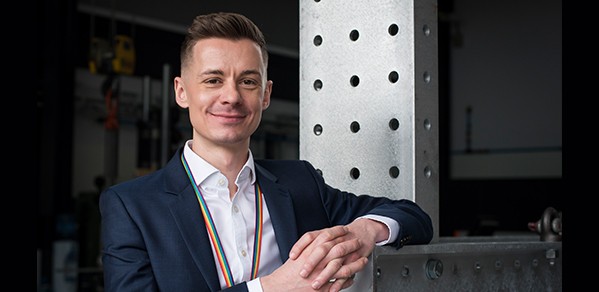 Professor John Orr has been announced a winner of the 2022 Philip Leverhulme Prize, securing £100,000 to advance his research in the field of construction and structural engineering. Professor Orr will specifically use the prize money to continue his work on reducing whole life embodied carbon of built assets in support of the UK's net zero carbon ambitions.
I am delighted to receive this prestigious award, which will provide a huge boost to my research ambitions over the coming years.

Professor John Orr
The Prize, awarded by the Leverhulme Trust, will build on the outputs of Professor Orr's recent research projects, including the UKRI-funded Automating Concrete Construction (ACORN) and the EPSRC-funded Minimising Energy in Construction (MEICON).
Concrete is the world's most widely used man-made material and the manufacture of cement already contributes to at least 5% of global carbon dioxide emissions. Professor Orr's previous research has been influential in showing that concrete is inefficiently used in the built environment – to the extent that carbon reductions in the order of 50% can be achieved by design optimisation.
The Prize will focus on both local and global responses to the challenge of cement and concrete. This will be achieved by building international cooperation across construction and driving the UK's focus towards demand reduction achieved through better design.
The importance of this on a global scale, says Professor Orr, is evidenced by considering the following:
Demand reduction at scale is possible immediately. Reducing carbon emissions more quickly has a beneficial climate impact.
The biggest global cement producers are outside the UK, and showing leadership in the UK must be matched with research that is aware of the global construction context.
Carbon capture and storage is not available at scale and should not be relied on as a magic solution to carbon emissions – few, if any, of the approximately 6,000 cement plants in the world, have been fitted with the technology required for carbon capture and (more crucially) storage.
"I am delighted to have received the prestigious 2022 Philip Leverhulme Prize, which will provide a huge boost to my research ambitions over the coming years," said Professor Orr. "The funding will give me the freedom to pursue exciting avenues of research that support the wider aims of my group at Cambridge. Examples of this include: funding a part-time research development manager to assist in workshop preparation, network building and grant writing activities; funding knowledge workshops in the UK and internationally; and undertaking small scale, proof of concept research and laboratory trials to inform and underpin future research proposals."
He added: "The wider aim is to secure sustained research funding to tackle the global challenges of cement and concrete use, and shift international focus to demand reduction through better design, improved construction practices, and cultural change."