Professor Kenneth Johnson FRS, FEng has been awarded the prestigious Timoshenko Medal.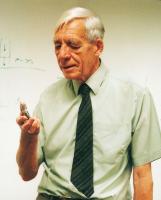 Professor Johnson is an Emeritus Professor of the Department and has worked in the field of contact mechanics and tribology for forty years; he retired after more than thirty years on the staff here. He is the author of the book Contact Mechanics (Cambridge University Press, 1985) and was awarded the Tribology Gold medal in 1985, the ASME Mayo D Hersey medal in 1991 and the Royal Society Medal in 2003. The Timoshenko Medal, widely regarded as the highest international award in the field of applied mechanics, was established in 1957 in honor of Stephen P. Timoshenko, world-renowned authority in the field. The award is given annually by the American Society of Mechanical Engineers (ASME) to an individual "in recognition of distinguished contributions to the field of applied mechanics."
Below is the 2006 Timoshenko Medal acceptance speech made by Professor Johnson as published on the iMechanica website.
"First and formost, I must acknowledge with gratitude the honour of being selected for the Timoshenko medal for 2006. But since a speech is now expected, I realise that this is not free lunch. If you know a good pub, this would be a good time to slip away.
"When I received Virgil Carter's letter informing me that I had been selected, I could not believe it. There must have been a mistake; after all Johnson is a very common name. I am reminded of my first meeting with Bernie Budiansk from Harvard, also a Timoshenko medallist. He asked, 'Did you write that book on vibration with Bishop?' 'No. That was Dan Johnson'; 'Did you edit that British Journal of mechanical sciences?': 'No. That was Bill Johnson'; 'Who the hell are you!'
"I must belong to a shrinking number of Timoshenko medallists who actually met the great man himself, that is if 'met' is the right word. It was at the 1956 IUTAM Congress in Brussels. He was always surrounded by KGB men in long black coats. It was impossible to get near enough to see the white of his beard.
"However, I can claim to be a good friend of his side-kick: Norman Goodier, Timoshenko medallist in 1963 and co-author of his famous book on The Theory of Elasticity. Goodier graduated in Engineering from Cambridge, (England, that is! ) and came to the United States on a scholarship to the University of Michigan, where he met Timoshenko. Interestingly for me, Goodiers' Cambridge PhD Dissertation contained a report of an investigation into corrugation of railway rails, it showed rather more progress on that problem than I managed to make 50 years later.
"When Timoshenko emigrated from Russia to the US, he found it an undeveloped country as far as mechanics was concerned, which led to the foundation in 1927 of the Applied Mechanics Division of ASME, with Timoshenko as first chairman. No doubt he was pleased to find an acolyte with a sound Cambridge training in mechanics. Goodier capitalised on the situation in the time honoured way, by 'marrying the boss' daughter'.
"I have occasionally been asked how I first got involved in contact mechanics. My first job after graduation, towards the end of World War II, was working in the aircraft industry as a vibration engineer. The company Rotol, designed and manufactured most of the aeroplane propellers in active service. This included the Spitfire fighter, famous from the battle of Britain. The increase during its lifetime of the power of the Merlin engine demanded that the propeller required an increasing number of blades. When I signed on it had reached five, which gave rise to severe vibration, Working on this problem, I found drawing vector diagrams at 72 deg. gave an invaluable training in dividing a cake or a pie equitably for what turned out to be a family of five.
"In common with vibration analysts then and since, I worried about assessing the damping. I became convinced that in most practical cases of structural vibration the damping arose principally by slip at clamped joints. On returning to the university I made this the subject of my PhD. This topic brought me into close contact with R.D.Mindlin and his group at Columbia University, who were studying Hertz contact under the action of tangential friction forces. That was the start.
"During my time as a graduate student I was profoundly influenced by three books: Timoshenko and Goodiers' Theory of Elasticity; Den Hartog's Mechanical Vibrations and Bowden and Tabors' Friction and Lubrication of Solids. I tried to copy the simple and direct style of all three when I came to write my own book on Contact Mechanics. I have been fortunate that contact mechanics has become an expanding field. In the early days I had a visit from Don Conway of Cornell, who expressed surprise that any one could fill their time with contact problems!
"The IUTAM Congress in Brussels provided another lucky break in my career. A bus trip to the historic city of Bruges had been arranged for the middle Sunday. My wife came out to join me on the Saturday night. Being newly weds, we were late at the departure point on Sunday morning and just managed to catch the bus reserved for late-comers. For whatever reason, the rest of the latecomers comprised a 'who's who' of applied mechanicians. When we arrived at Bruges a party led by Mindlin and Drucker made for a restaurant in the main square, where Dorothy and I found we could hardly afford a bowl of soup. With very red faces, we extracted ourselves, shortly to be followed by the rest of the party. Sandwiches were acquired to be eaten on a hilarious boat trip round the canals. Sometime later I received an invitation from Dan Drucker to spend a year at Brown in its glory days, which confirms that it's not what you know, but who you know which counts. I shall not forget that happy year, which not only produced a son with an American passport, but also friendships which have stood the test of time. Brown doesn't seem to have forgotten it either. Only the other day I received an invitation to a fund raising event in London.
"I must also take this opportunity to acknowledge my debt to David Tabor, who died last year aged 92. He not only invented the word 'tribology', but along with F.P.Bowden in the Cavendish Laboratory in Cambridge, he established the subject as a respected scientific discipline. Many members of ASME look back with pleasure and satisfaction to time spent in that laboratory. It seemed to be my role to use continuum mechanics to show that the results of Tabor's intuition plus simple experiments could hardly be improved upon. It is noteworthy that the word 'tribology' has been accepted throughout the world, even including the US, which tends to oppose fancy new words from Europe, like 'kilogram' and 'centigrade' ; perhaps because they are French!
"About the time I formally retired from teaching in '92, microprobe instruments such as the Atomic Force Microscope and the Surface Force Apparatus were being developed, mainly in physics departments, and used to study friction on the atomic scale. Irwin Singer of the Naval Research lab, in Washington, observed that this activity was going on in complete isolation from the traditional world of engineering tribology. He organised a NATO ISA in Braunlager to bring the to communities together. It was an eye opener for both sides. My activities changed quite dramatically from wheel/rail contacts, whose diameters are about 10 mm, to contacts of a few micro-metres or less. At this scale molecular adhesion between the surfaces becomes a major effect. This meant that I had to make friends with physicists, for whom friction has suddenly become a fashionable subject. Maybe they will be able to explain the question that so exercised Bowden and Tabor 60 years ago: the relation between adhesion and friction. They picked up a paper of mine on adhesion in Hertz contacts, written in '71 with two graduate students: Kevin Kendall and Alan Roberts which suddenly became famous as the 'JKR theory'. To bask in this celebrity my co-author Alan Roberts recently entered JKR into Google was rewarded by pages and pages of citations...to J.K.Rowling, the author of Harry Potter.
"A few years ago I was nominated for an award in tribology to be presented by the Duke of Edinburgh. At the time his youngest son Prince Edward, was a final year undergraduate at my College. It was a case of, 'Please God, may that boy pass his exams. I have to face his father next week!' At the presentation the citation mentioned 'shakedown in rolling contact'. The Duke asked me to explain 'shakedown'. I mumbled something about repeated loads on structures doing damage at first, but improving with time. He looked at my wife and said, "Just like married life". Well, I suppose it depends who you are married to.
"One of the pleasurable features of living and working in Cambridge is its attraction for distinguished visitors, who find it a convenient base camp for the 'Grand Tour of Europe'. Some even do some work. I felt a warm glow towards Tom Farris when he began a conference talk by saying: " This idea originated in the coffee room at Cambridge". Of course the reverse also applies. My wife and I have received wonderful hospitality and acquired firm and lasting friendships on our trips around the world, particularly the US, we thank you all."