Spectrograms, created by a Cambridge professor from ritual chants, have been engraved onto a wooden Ark to help mark an important anniversary.
It was an interesting challenge and a pleasure to work with members of the Oxford Jewish Congregation on a project which combined symbolism, science, and art.

Professor Jim Woodhouse
Professor Jim Woodhouse, whose research interests involve the mechanics of musical instruments and vibration, has advised on the creation of a design of 'symbolic significance' in honour of the 175th anniversary of the Oxford Jewish Congregation.
The Congregation had commissioned a new Ark where the Torah Scrolls are kept: these scrolls are used for public worship. They were keen to use a design based on acoustical visualisation.
Using computer software, Professor Woodhouse created spectrograms from sound recordings of Hebrew chants that are sung when the Ark is opened and closed. He then turned each spectrogram into black and white and enlarged it in order to produce a design that could be carved into the wooden panels of the Ark.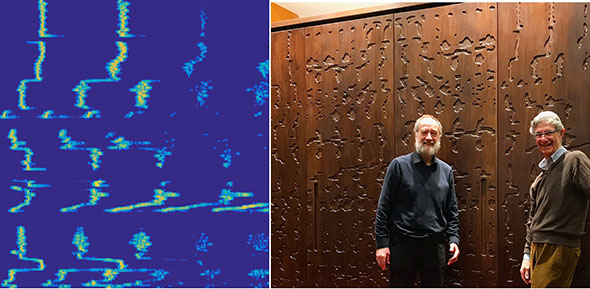 The carving was completed by specialist cabinet maker Robin Furlong.
In the two spectrograms Professor Woodhouse created, time runs vertically upwards from the bottom, and frequency runs along the horizontal axis.
"This is one of the more unusual projects that I have been involved in," said Professor Woodhouse. "It was an interesting challenge and a pleasure to work with members of the Oxford Jewish Congregation on a project which combined symbolism, science, and art."