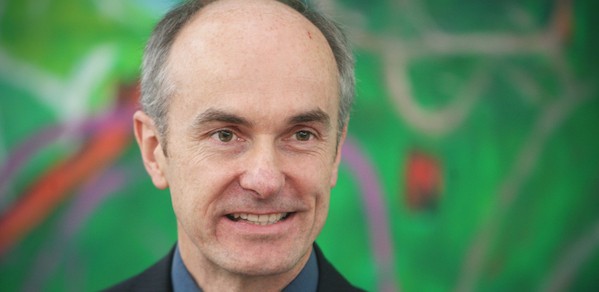 We are saddened by the loss of Professor Sir David MacKay, Regius Professor of Engineering, who lost his battle against stomach cancer on Thursday 14th April 2016. He was 48 years old.
As a scientist, he made contributions to a wide range of fields, including metallurgy, information theory, machine learning, human-computer interaction and sustainable energy. His fundamental contributions to information theory and machine learning include the development of Bayesian methods for artificial neural networks. His detailed book Information Theory, Inference, and Learning Algorithms (2003) was an instant classic and is still widely read in the field. He believed in open access at an early stage and as a consequence his book has always been available for free on his website.
He cared deeply about education. He taught mathematics at the African Institute for Mathematical Sciences in Cape Town, South Africa and he was a popular lecturer at the Department of Physics where he for many years taught dynamics, computing, information theory, pattern recognition and neural networks, and materials, electronics, and renewable energy.
His passion for information theory, education and outreach lead to the invention of Dasher, an information-efficient efficient text entry method for people with disabilities, which allows users to communicate with any muscle. Dasher is free software and currently maintained by volunteers at Google.
His commitment to science outreach and his long-standing interest in the environment resulted in the book Sustainable Energy – Without the Hot Air (2009). The book achieved widespread acclaim – The Economist described it as a tour de force, and it was favourably reviewed in Science, The Guardian, and many other newspapers, specialist journals and blogs. As with his previous book, Sustainable Energy was released for free on the web. Nine months after the publication of Sustainable Energy he was appointed Chief Scientific Adviser in the Department of Energy and Climate Change (DECC) for a five-year term. At DECC he and his colleagues developed the 2050 Energy Calculator, which was released as free software and has been adapted by several other countries.
David read Natural Sciences at Trinity College, Cambridge, and received his PhD in Computation and Neural Systems from Professor John Hopfield's research group at the California Institute of Technology. After his PhD he was the Royal Society Smithson Research Fellow at Darwin College, where he was later elected Official Fellow. He was a Lecturer, Reader and Professor of Natural Philosophy at the Department of Physics where he started and led the Inference Group. After his service to the government he returned to Cambridge in 2013 as the inaugural Regius Professor of Engineering in the Department of Engineering.
He was a Fellow of the Royal Society, the Institute of Physics, the Institution of Civil Engineers, and Darwin College, Cambridge. In 2012 he was elected Honorary Fellow of Trinity College, Cambridge. He was knighted in the 2016 New Year Honours for his services to scientific advice in government and science outreach.
His battle against cancer was bravely chronicled on his blog. The range of his world-leading research was remarkable and were it not for his early death he would surely have had a strongly positive influence on both academic research and public policy for several decades. We will remember him as an intelligent, principled, enthusiastic and engaging colleague who left us with an inspiring legacy. He is survived by his wife Ramesh and their two young children, Torrin and Eriska.
David MacKay, born 22 April 1967, died 14 April 2016.