The refugee tent-linings developed by a team of researchers from Cambridge University, including Rachel Battilana who graduated from the Department last year, are about to be tested in Afghanistan.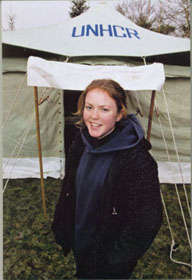 The story hit the headlines last week, on the BBC's on-line news page in the science and technology section.
Rachel's project on the 'Design of a Cold Climate Emergency Shelter for Refugees' which she worked on in conjunction with members of the School of Architecture, was praised for demonstrating the compassionate face of civil engineering today. She is now working for the civil engineering firm, Buro Happold, where she has a continuing interest in this project.