Many congratulations to Professor Shôn Ffowcs Williams who received the Royal Academy of Engineering Sir Frank Whittle Medal this week.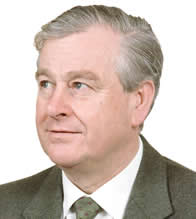 The medal is awarded each year to an engineer, normally resident in the UK, for outstanding and sustained achievement. It has been awarded to Ffowcs Williams for his lifelong dedication to understanding the properties of sound, which has enabled huge innovation in international transport.
Professor Ffowcs Williams who came to Cambridge University in 1972 as the first Rank Professor of Engineering,is a world expert in noise-reduction technology and was prominent in developing the concept of anti-sound now routinely used to silence some aircraft noises.
He has made an enormous contribution to predicting and reducing sound, both in aircraft and submarines. With his student David Hawkings he developed the deceptively simple and elegant Ffowcs Williams-Hawkings equation describing how surfaces moving at high speed generate sound. This has helped to reduce dramatically the noise from helicopter blades and jet engine fans. A typical passenger plane is now 30 decibels quieter than its 1950s equivalent, even though planes have become much heavier since then.
Professor Ffowcs Williams is currently Master of Emmanuel College.