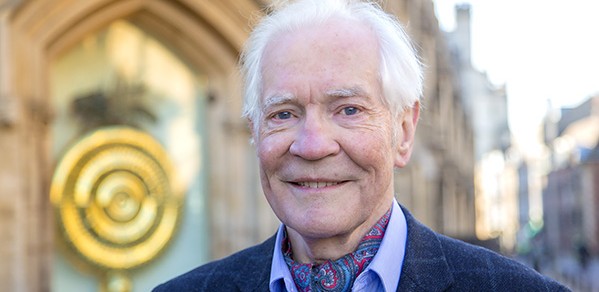 The University of Cambridge is to appoint its first Professor of Innovation, funded by an inventor with more than 400 patents to his name.
In order to stay ahead, it's important that not only do we innovate, we do it better than anyone else.

Dr John C Taylor OBE, inventor
Thanks to a generous philanthropic donation of £2.5million from Dr John C Taylor OBE, one of the most successful British inventors of the last 50 years, the University of Cambridge is now hiring a Professor of Innovation to inspire the next generation.
The successful applicant will take up the position on 1 October 2017, and applications close on Tuesday (2 May 2017). 
The University of Cambridge, building on a tradition as one of the strongest areas in the UK for engineering and invention, will be looking for candidates who have an outstanding research record of international stature in technology and innovation management. 
They'll also need vision, leadership, experience and enthusiasm and will hold a PhD or equivalent postgraduate qualification.
But why was it so important to Dr John C Taylor that the Professorship of Innovation was set up, other than the fact that he graduated from Cambridge in 1959? 
He explains, "Too little is discussed these days about business financial freedom and job creation while too much attention is paid to venture capitalist business models, which can leave an inventor with little ownership.
"One of my proudest achievements in business is that I never borrowed a penny from anyone.  This is because I always focused on cash flow and used the revenue from manufacturing to fund innovation.
"Innovation is no longer just for the elite in business; it has become the norm. 
"In order to stay ahead, it's important that not only do we innovate, we do it better than anyone else. The United Kingdom has an incredible track record of inventors, engineers and thinkers and we want to build on that.
"It's essential that those who have great ideas have the skills and support to develop successful business models around them. 
"This way, they can develop inventions from prototype to production for the benefit of the creator while generating local employment through manufacturing growth.
"This is the sort of insight that the Professor of Innovation would give to the bright minds of the Department of Engineering, and why it's so essential that the students have guidance on how to make their business plans work for them."
Dr Taylor, who is a Fellow of the Royal Academy of Engineering (FREng) made his name creating small electrical components that are vital to many pieces of technology.  
Early electric kettles would not turn off when the water was boiling, meaning that they needed constant supervision and were in danger of melting and starting fires if they were not properly attended.
Dr Taylor created the solution to this problem: a small, bimetallic thermostat which would break the kettle's circuit when the water started to boil.
Having continued to innovate throughout his life, Dr Taylor now has over 400 patents to his name. 
Many of the inventions that make modern life possible were created by British inventors and scientists.  In 2008, Dr John C Taylor created and donated to his former college the popular Corpus Chronophage Clock, positioned outside the Taylor Library at Corpus Christi College, Cambridge, which has now become one of the city's most popular tourist attractions.
The new professorship, which has been endowed in perpetuity, will combine teaching and research to ensure young engineers combine innovation with practicality when approaching design.
Professor David Cardwell, Head of the Department of Engineering, said: "We are extremely grateful for this generous benefaction from Dr John C Taylor and honoured that this professorship will not only bear the name of such a distinguished inventor and engineer, but will help future generations to follow in his footsteps."