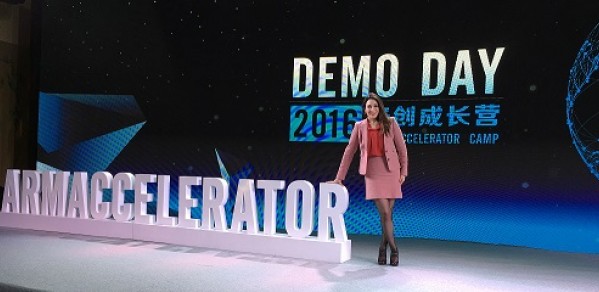 UtterBerry®, the new smart sensing technology, invented by former Cambridge Centre for Smart Infrastructure and Construction (CSIC) student Heba Bevan, has been announced as the chosen advanced technology for export to China.
I'm delighted that UtterBerry has been selected as a smart technology export to China. UtterBerry sensors are already being used at many major infrastructure sites in the UK including Crossrail, Thames Tideway and Tower Bridge and it will be wonderful to see them being used in cities throughout China.

Heba Bevan
Inventor and founder of UtterBerry, Heba Bevan, was invited by the Department for International Trade (DIT) to visit Shenzhen, Chongqing and Hong Kong last month as part of the UK-China TechHUB 2016 (a programme supported by the DIT), to demonstrate the potential of the UtterBerry devices to the Chinese government and world-leading hi-tech companies and investors, including China Resources Group, Huawei and China Mobile. 
UtterBerry, which has uniquely innovative, wireless, small and low-power capabilities, is being supported in China by the ARM Innovation Eco-system Accelerator - a company which helps SMEs and start-ups accelerate their business in China.
Heba developed and deployed UtterBerry while working on her PhD research with CSIC at the University of Cambridge. Heba has also worked in engineering research and technical sales engineering for the leading global semiconductor IP company, ARM, in the UK and Silicon Valley.
Sherry Madera, Deputy Director General, DIT, at the British Embassy in China says: "I am delighted UtterBerry has been selected as a champion of British technology excellence through the TechHub programme.  DIT is dedicated to working with innovative companies to enter the China market and drive exports to this exciting high potential region.  The TechHub programme is just one of the new initiatives we have launched in partnership with industry and the Chinese government.  I wish UtterBerry and Heba great success."
UtterBerry consists of miniature, wireless, ultra-low power sensors combined with artificial intelligence, and is designed for infrastructure monitoring. Its technology is unique in a number of ways, offering AI capabilities that enable it to be self-calibrating and capable of optimising data with sensors communication according to conditions as well as achieving high levels of accuracy, based on battery life that can last for years. The UtterBerry measures key data in real time.
Heba says: "I'm delighted that UtterBerry has been selected as a smart technology export to China.  UtterBerry sensors are already being used at many major infrastructure sites in the UK including Crossrail, Thames Tideway and Tower Bridge and it will be wonderful to see them being used in cities throughout China."
"UtterBerry is the smart technology of today and it has the ability to transform the future of communications in the world of artificial intelligence and play a real part in the creation of the smart cities of the future."
UtterBerry has already received awards for its innovations, including the 2015 Construction Excellence in London and the South East Innovation Award. The judging panel said: "The UtterBerry is a brand new technology… representing a quantum step in measurement sensors – not just providing data but also intuitively merging geo-technical with artificial intelligence."