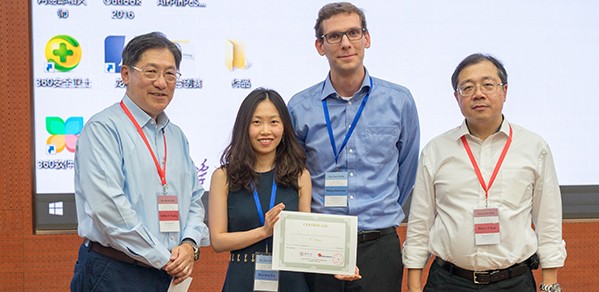 Two Cambridge PhD candidates have won first prize in an international civil engineering and construction management competition.
Our research helps overcome the immense problems associated with inspecting deteriorating and poorly maintained bridges.

Philipp Hüthwohl, PhD candidate
Ruodan Lu and Philipp Hüthwohl, who are part of the Department's Construction Information Technology Laboratory, accepted the top prize of  ¥10,000 at the 11th Innovation Competition in Construction Engineering and Management (ICCEM) held at Tsinghua University in Beijing, China, recently.
Their winning research project 'Automated System for Generating Digital Twins of Existing Reinforced Concrete (RC) Bridges' aims to provide a step change in the way existing RC bridges are inspected in a virtual reality 3D space. It does this by:
Using point clouds to automatically generate a bridge's geometric digital twin by measuring the object with a set of data points in space
Using high-resolution images to map various defects onto the digital twins to help solve today's global bridge management challenges.
Ruodan and Philipp worked closely with their supervisor Dr Ioannis Brilakis, Laing O'Rourke Reader in Construction Engineering, to collect bridge geometry and imagery data from 10 bridges around Cambridge, and created data from each site over a period of six months. They then implemented a high quality software prototype of their method for testing, which produced impressive results. 
"For any slab and beam-slab reinforced concrete bridge – the most common form of concrete bridge in the UK today – our modelling method can tackle the skew complexity and automatically generate its digital twin," said Ruodan. "It can also correctly detect and classify different defects of a concrete structure and map its spatial/visual properties into the model. All of these functionalities cannot be done with existing systems."
Philipp added: "Our research helps overcome the immense problems associated with inspecting deteriorating and poorly maintained bridges. The greatest benefit is likely to derive from the fact that, going forwards, as a result of our research, the Bridge Management Systems (BMS) databases will be enriched with information that is more detailed and more accessible, therefore ensuring that highway bridge owners can gain access to the reliable information they need in order to make sound decisions." 
Dr Brilakis said: "This prize highlights the value of digitising our built infrastructure into usable 'Digital Twins' that can greatly improve infrastructure management and maintenance."