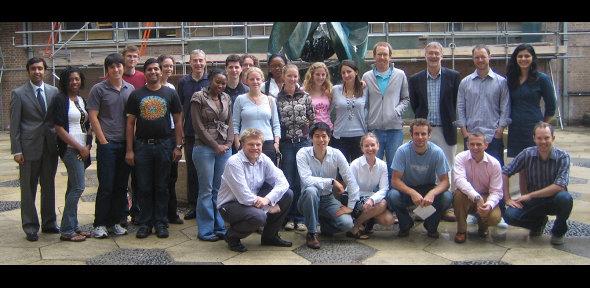 Together with the current students on the MPhil in Engineering for Sustainable Development, 24 alumni of the programme gathered from 10 countries in the Department recently to share their experiences since graduation. 13 short presentations were delivered covering work ranging from international development to the siting and construction of offshore wind farms. The students talked about their current roles and how these related to the MPhil programme, with all but one of the 6 cohorts of graduates to date represented.
Since the MPhil in Engineering for Sustainable Development was launched in 2002 it has produced 195 successful graduates and is expecting to boost this to nearly 250 in the coming year. Students have been drawn from all parts of the globe, with 46 countries being represented over the last 7 years. Many of these students have remained in touch with each other and the Centre for Sustainable Development, forming a unique and vibrant international community continually sharing ideas and experiences about best sustainable practices they are encountering. In addition to the students mentioned below, others have gone on to work for the United Nations, the World Bank, the UK Civil Service, NGOs in the aid and development sector, the US military, city governments in places such as Trieste and Vancouver as well as take roles as sustainability managers in a range of engineering consultancies and other organisations. Others have completed PhD's and are now embarked on successful research careers.
The alumni who returned to give their presentations included Nick Wordsworth (2003) currently working in offshore wind for Noble Denton, Roger Middleton (2004) a water manager with Black and Veatch, Simon Lamb(2006) who is working for Targetfollow (a commercial property developer), and Jennifer Bitting (2006) who has recently joined the Logistics Management Institute in Washington and described her work on low impact developments. Gareth Haslam (2007) and Nitin Tanwar (2007) graduated from the programme in 2007. Gareth opted for a research career and is currently working on his PhD on the topic of fuel cells, whilst Nitin has been involved in carbon trading with CFI Futures.
Several students from the 2008 group returned to talk about what they have been doing recently. These included Bill Brower(2008) who is based in Washington with GlobalGiving (an on-line market place designed to connect donors with community projects), Tom Berman (2008) who has set up his own consulting company Consep Ltd designed to help companies improve their environmental and sustainability performance, Galvin Clancey (2008) now based in Portland, Oregon described his work with Vestas who are the world's leading supplier of wind power solutions. Colleen Duncan (2008) has spent the year working for Engineers Without Borders(Canada) in Malawi, whilst Brendan Baker (2008) described his experiences with the Practica Foundation in Ethiopia. Scott Kelly (2008) has embarked on a PhD in Cambridge and is currently involved in modelling the decarbonisation of the UK residential sector and Uma Sreenavasamurthy (2008) has spent the year working with EcoFys on renewable energy and energy efficiency projects.
Other students talked informally about their work with Arup, UK planning authorities, the civil service in Whitehall, Mott MacDonald and other organisations. The event highlighted the diversity of opportunity available to graduates from the MPhil programme and provided a stimulating discussion and networking across the years. It is intended this event will become a regular fixture in the Department following the successful annual MPhil Dissertation Conference in which current students present the work of their individual research projects.