The Whittle Laboratory was officially opened, as the 'Science Research Council Turbomachinery Laboratory', on 25 May 1973, by Air Commodore Sir Frank Whittle.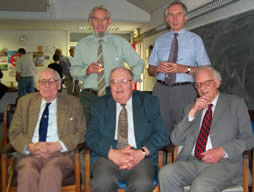 To celebrate the thirtieth anniversary of this event a reunion of past and present Whittle Laboratory members was held at the Lab on Saturday 5 July. (The Lab was renamed the 'Whittle Laboratory' in November 1975.)
100 present and previous members of the Lab; staff, students and technicians attended. Presentations were given by Sir John Horlock, the first Director; Professor John Denton and Dr Nick Cumpsty who summarised the history of the lab and its development over the past 30 years. These talks were followed by a barbeque lunch and tours of the Laboratories. A good day was had by all.