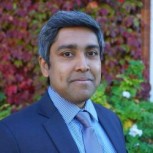 Principal Ressearch Associate in Digital Roads
---
Research interests
Lavindra is Principal Research Associate (Research Professor) in the Cambridge University Engineering Department. He joined the Department in February 2019 as Research Lead on the Digital Manufacturing on a Shoestring project, after which he took on the role of Programme Director on the Digital Roads of the Future Initiative. This £14.5m initiative was established to lead the way in the digital revolution of our vital road network, a once-in-a-century transformation to make roads safer and greener. The initiative is expected to involve more than 50 researchers at Cambridge, working collaboratively with businesses. The programme will explore how digital twins, smart materials, data science and robotic monitoring can work together to develop a connected physical and digital road infrastructure system. The vision is to deliver resilient roads that can measure and monitor their own performance over time.
Prior to joing Cambridge, Lavindra worked in the Engineering Department of the University of Nottingham, where in collaboration with the Agents Lab, he developed algorithms and a tool for determining whether and how a factory of manufacturing cells can 'reconfigure' in order to manufacture a product. This enabled factories in a manufacturing cloud to automatically 'bid' for products requested by customers. Before coming to the UK, Lavindra worked on two projects as a research scientist at the French National Center for Scientific Research (CNRS-LAAS). The first project explored how to build compliant software systems for safety-critical applications, by extending the flagship Genom middleware framework and methodology which is used for developing low-level software modules that control robot hardware components. The second project explored how to unify hierarchical planning algorithms used in AI and the geometric reasoners used in robotics to plan the detailed motions of robot joints.
Lavindra did his PhD in the RMIT University Agents Lab, in Melbourne (Australia), considered to be the 'home of Belief-Desire-Intention agent systems'. In his PhD he developed a logic-based formalism for making such autonomous systems more robust, which enabled both the runtime composition of novel agent behaviours from scratch in order to adapt to unforeseen situations, and the ability to perform runtime hierarchical 'lookahead' over behaviors, to ensure that they do not fail part way through execution.
Lavindra's research interests lie in AI and in applying AI to construction, manufacturing, and robotics. In particular he is interested in: developing novel hierarchical and hybrid (AI) planning approaches, including unifying the task and motion planning algorithms that are used in AI and robotics; in developing formal semantics for autonomous (and typically BDI-style) agent systems, including semantics for concurrency; and in the synthesis of provably correct controllers for robotics and manufacturing.
Selected recent papers from A-grade (portal.core.edu.au/conf-ranks) journals and conferences:
L de Silva. An operational semantics for true concurrency in BDI agent systems. In Proceedings of the National Conference on Artificial Intelligence (AAAI), accepted for oral presentation, 2020. (acceptance rate: 21%, oral presentation: 6%)
L de Silva, F Meneguzzi, and B Logan. BDI Agent Architectures: A Survey. In Proceedings of the International Joint Conference on Artificial Intelligence (IJCAI), to appear, 2020. (acceptance rate: 25%)
L de Silva, L Padgham, and S Sardina. HTN-like solutions for classical planning problems: An application to BDI agent systems. Theoretical Computer Science (TCS), 763:12–37, 2019.
L de Silva, P Felli, D Sanderson, J C Chaplin, B Logan, and S Ratchev. Synthesising process controllers from formal models of transformable assembly systems. Robotics and Computer Integrated Manufacturing (RCIM), 58:130–144, 2019.
L de Silva. HTN acting: A formalism and an algorithm. In Proceedings of the International Conference on Autonomous Agents and Multi-Agent Systems (AAMAS), pp 363–371, 2018. (acceptance rate: 25%)
L de Silva, F Meneguzzi, and B Logan. An operational semantics for a fragment of PRS. In Proceedings of the International Joint Conference on Artificial Intelligence (IJCAI), pp 195–202, 2018. (acceptance rate: 20%)
L de Silva. BDI agent reasoning with guidance from HTN recipes. In Proceedings of the International Conference on Autonomous Agents and Multi-Agent Systems (AAMAS), pp 759–767, 2017. (acceptance rate: 26%)
P Felli, L de Silva, B Logan, and S Ratchev. Process plan controllers for non-deterministic manufacturing systems. In Proceedings of the International Joint Conference on Artificial Intelligence (IJCAI), pp 1023–1030, 2017. (acceptance rate: 26%)
L de Silva, P Felli, J C Chaplin, B Logan, D Sanderson, and S Ratchev. Realisability of production recipes. In Proceedings of the European Conference in Artificial Intelligence (ECAI), pp 1449–1457, 2016. (acceptance rate: 27%)
L de Silva, S Sardina, and L Padgham. Summary information for reasoning about hierarchical plans. In Proceedings of the European Conference in Artificial Intelligence (ECAI), pp 1300–1308, 2016. (acceptance rate: 27%)
Department role and responsibilities
Besides general oversight over certain project activities, Lavindra is formally supervising the following research students and postdoctoral fellows:
Rui Kang (PhD student), primary supervisor
Percy Lam (PhD student), primary supervisor
Fergus Mok (MRes+PhD student), primary supervisor
Yiming Zhang (Future Roads Postdoctoral Fellow), primary supervisor
Anand Sreeram (Future Roads Postdoctoral Fellow), co-supervisor
Momoko Nakaoka (PhD student), advisor
Jathavan Thevarajah (Master's student), primary supervisor
Nick Park (Master's student), primary supervisor
Ellie Pang (Master's student), primary supervisor