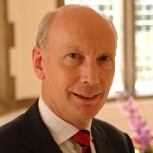 Emeritus Staff
---
Research interests
General
On taking up his appointment to a Chair in Engineering and Head of the Geotechnical Group in 1998 Robert Mair introduced new avenues of research, and in particular strengthened the Group's collaborations with industry. He organized a successful £2m bid for a Joint Infrastructure Award (JIF) for the construction and equipping of a new two-storey building: the Centre for Geotechnical Process and Construction Modelling. This building is immediately adjacent to the existing centrifuge facility on the West Cambridge site and is part of the Schofield Centre. The aims of this Centre are to develop new research areas concerning innovative construction techniques. The main thrust of the research is in the areas of underground construction, earthquake engineering, environmental geotechnics (the prevention and remediation of ground contamination), and foundation engineering, as well as in fundamental soil mechanics. Robert Mair's own research areas are in Underground Construction and Innovative Sensor Technologies for Infrastructure Monitoring.
Underground Construction
A large number of research grants have been obtained in the field of underground construction. An EPSRC grant was awarded in collaboration with Professor John Burland of Imperial College to study the mechanisms of tunnelling-induced ground movements, their progressive effects on buildings and their mitigation. Another research grant was from Nishimatsu Construction of Japan and concerned the effects of both tunnel construction and diaphragm wall construction on piled foundations; the aim of this research was to improve understanding of the fundamental mechanics of how large and heavily loaded buildings react to adjacent tunnel construction. This work was undertaken in collaboration with Professor Kenichi Soga and Dr Jamie Standing (formerly at Cambridge, now at Imperial College). An EPSRC research grant was also obtained in collaboration with Oxford University on pipejacking lubrication and additives used for conditioning soils for tunnelling machines; this was also supported by the UK Pipe Jacking Association.
More recent research areas include the influence of tunnelling on pipes and other tunnels, excavation-induced ground movements, forepoling and face reinforcement in tunnelling, and effects of deep excavations and tunnel construction on pile foundations. An EPSRC CASE PhD studentship sponsored by Arup is focusing on tunnelling effects on bored piles (centrifuge model tests and analysis of field measurements on the Crossrail project). An EPSRC Case PhD studentship sponsored by GCG concerns the design and construction of shafts, the subject of a major research project in collaboration with Crossrail.  Another research grant, in collaboration with Dr Matt DeJong, recently awarded by EPSRC is on Tunnelling-Induced Settlement Damage to Masonry Structures; this is also funded by Crossrail.
Innovative Sensor Technologies for Infrastructure Monitoring
Robert Mair is the Principal Investigator for the Centre for Smart Infrastructure and Construction, involving the innovative use of the latest sensor technologies to monitor the behaviour of civil engineering infrastructure.
Strategic themes
Energy, transport and urban infrastructure
Robert Mair leads research involved with developing new technologies for streamlining construction and for condition assessment and monitoring of ageing infrastructure, with a focus on the development of wireless sensor networks, MEMS technologies and new fibre optic technology.  He is Principal Investigator for the recently awarded Innovation and Knowledge  Centre for Smart Infrastructure and Construction, funded by EPSRC/TSB and industry to a total value of £17m.  He also leads research activities in connection with underground construction for urban transport tunnels, soft ground tunnelling being a major research interest. Professor Mair also has a close interest in the Department's Energy Efficient Cities initiative (EECi).
Manufacturing, design and materials
Funded by the Technology Strategy Board, a three year Knowledge Transfer Partnership (KTP) with Crossrail has recently been completed. This project, led by Professors Mair and Soga, comprises two KTP Associates based at Crossrail under their academic supervision, together with a Research Associate funded by Crossrail (the total funding was £764k). The two KTP Associates have utilised the latest research expertise developed at Cambridge on ground movement mechanisms around deep excavations, together with our research and development on innovative optical fibre sensor systems for measuring strain. This research expertise is being applied to the measurement and understanding of the performance of the large and deep shafts constructed for Crossrail (some of which extend to depths of 50m and are of diameters up to 30m).
Complex, resilient and intelligent systems
The engineering, management, maintenance and upgrading of infrastructure requires fresh thinking to minimise use of materials, energy and labour whilst still ensuring resilience and reducing uncertainty and risk. This can only be achieved by a full understanding of the performance of the infrastructure, both during its construction and throughout its design life, through the application of innovative sensor technologies and other emerging technologies. This is a key objective of the Centre for Smart Infrastructure and Construction.
Research projects
Tunnelling Effects on Bored Piles (EPSRC Case PhD studentship in collaboration with Arup)
Centre for Smart Infrastructure and Construction (EPSRC/TSB and industry funded)
Tunnelling-Induced Settlement Damage to Masonry Structures (EPSRC, also funded by Crossrail)
Design and Construction of Shafts (EPSRC Case PhD studentship in collaboration with GCG)
Teaching activity
2nd year (Part IB) Paper 8, Civil Engineering: Design and Construction of Underground Space
3rd year 3D2 Geotechnical Engineering
4th year 4D4 Underground Construction
Other positions
Robert is a Fellow of the Institution of Civil Engineers, a Fellow of the Royal Academy of Engineering (its Senior Vice-President 2008-2011), and a Fellow of the Royal Society. He was awarded the Institution of Civil Engineers Gold Medal in 2004 and the CBE in the 2010 New Year's Honours list for services to Engineering. He received an Honorary Doctorate from the University of Nottingham in 2011.
Biography
Robert Mair was appointed Professor of Geotechnical Engineering at Cambridge University in 1998. He was the Sir Kirby Laing Professor of Civil Engineering 2011-2017, and was Master of Jesus College 2001-2011. He is also one of the founding Directors of the Geotechnical Consulting Group (GCG), an international consulting company based in London, started in 1983. He was appointed Chief Engineering Adviser to the Laing O'Rourke Group in 2011.
After graduating in 1971 from Cambridge University, where he read Engineering at Clare College, he worked continuously in industry until 1998, except for a three year period in the late 1970's when he returned to Cambridge to work for his PhD on tunnelling in soft ground. His early involvement with tunnels began at that time, when he undertook research for the UK Transport Research Laboratory on the subject of centrifuge modelling of tunnel construction in soft ground. He was awarded a PhD for this work in 1979.
Throughout his career, he has specialised principally in underground construction, providing advice on numerous projects world-wide involving soft ground tunnelling, retaining structures, deep excavations and foundations. Recent international projects have included railway tunnels in the cities of Amsterdam, Barcelona, Bologna, Florence, Rome, Singpapore and Warsaw, and motorway tunnels in Turkey. In the UK, he has been closely involved with the design and construction of the Jubilee Line Extension for London Underground, and with the Channel Tunnel Rail Link (now HS1) and Crossrail projects.
He was responsible for the introduction of compensation grouting in the UK as a novel technique for controlling settlement of structures during tunnel construction - on the Waterloo Escalator Tunnel Project. The technique was widely used on the Jubilee Line Extension Project for the protection of many historic buildings, including the Big Ben Clock Tower at the Palace of Westminster and has since been adopted on many international tunnelling projects.
He is Chairman of the Singapore Government's International Advisory Board on design and construction aspects of all their underground metro and road tunnels. He gave evidence to the House of Commons and House of Lords Select Committees on the Crossrail project in London and is a member of Crossrail's Engineering Expert Panel.
He was Chairman of the Royal Society/Royal Academy of Engineering Report on Review of Shale Gas and Hydraulic Fracturing for the Government, published in 2012.
He was a member of the UK Government's Construction Industrial Strategy Advisory Council, whose report was published in 2013.