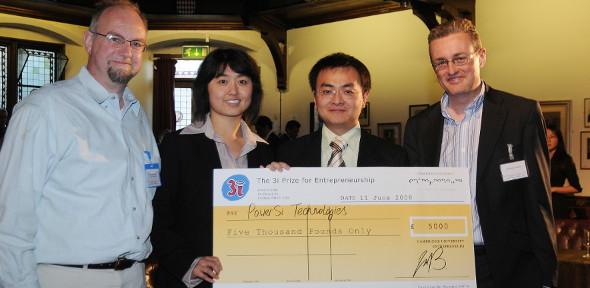 PowerSi Technologies Limited, a spin-out from the Department of Engineering, have won prizes at both the 2008 Cambridge University Entrepreneurs (CUE) £5K Challenge and the 21st Century China UK Entrepreneurship Competition.
Last October 336 teams entered the serial CUE Challenge business plan competitions. The team of PowerSi Technologies won both Technology Prize and Cleantech Prize as announced at the recent prizegiving ceremony, pitching in front of a panel of Cambridge entrepreneurs, business angels and venture capitalists. The team also won the first place in the 21st Century China UK Entrepreneurship Competition out of more than 200 entries from both the UK and China. The team presented at the China UK Showcase held in London in June with prestigious delegates from both the UK and China. The two prizes include £12,000 cash, free IP services worth £5,500 and other free advisory services.
PowerSi Technologies was recently founded by Dr Patrick Palmer, Reader in Electrical Engineering, and two of his former PhD students, Dr Zhihan Wang and Dr Yalan Wang, from the Electronics, Power and Energy Conversion group of the Department. Their winning business plan is to promote the technologies for power semiconductors and controllers in renewable energy applications.
PowerSi Technologies has developed and patented a technology AVC (Active Voltage Controller) that will revolutionise energy conversion through the intelligent control of power semiconductor devices. By using AVC, electric energy can be more efficiently transformed from one form into the other form (e.g. from AC to DC). Zhihan says "Our Active Voltage Controller, the most intelligent controller today, will reduce the total cost of a conversion system by 40%, improve the efficiency by 10% and enhance reliability. Our entry market is industrial converters of renewable energy applications, including wind power, solar energy and hybrid vehicles. The total available market of controllers in these three sectors is worth $1.3bn in 2008, of which we will take 20% within 5 years."
Research on the control of power semiconductors has been led by Dr Palmer since the early 1990s. The AVC has been developed as an intelligent and cost-efficient method to drive and control power semiconductor devices, including Insulated-Gate Bipolar Transistors or IGBTs which are semiconductor devices, noted for high efficiency and fast switching, and Metal–Oxide–Semiconductor Field-Effect Transistors or MOSFETs which are devices used to amplify or switch electronic signals. The AVC exerts intelligent feedback control on conventional power devices for the first time that enables them to have user-defined and well-behaved switching performance. The team has been actively cooperating with Cambridge Enterprise on the patent filing and commercialisation.
The AVC demonstrator products are currently in production and expected to be adopted to control tens of IGBTs in series connection in a large-capacity Static Compensator in China which is a national key project funded by the Ministry of Science and Technology of China. This will be a big challenge in the power electronics field.
PowerSi Technologies was also selected by Innovator Capital to pitch at CleanEquity Monaco, an investor summit in March.
For more information, please contact Dr Zhihan Wang: zw220 AT cam.ac.uk