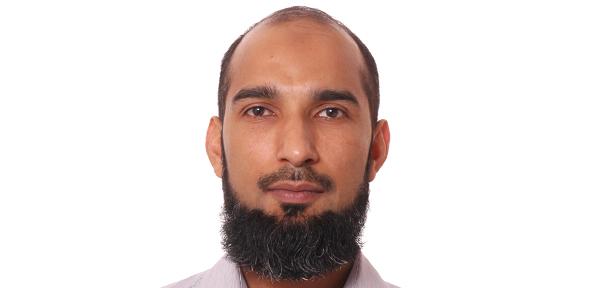 Ibraheem Haneef, a PhD student in the High Voltage Microelectronics (HVM) Group in the Electrical Engineering Division, is the first ever student from the UK to win a best paper award at the Institute of Electrical and Electronics Engineers (IEEE) Sensors conference.
He won the third place Best Student Paper Award at the 7th IEEE International Conference on Sensors that was recently held at Lecce, Italy. His paper entitled "Laminar to Turbulent Flow Transition Measurement Using an Array of SOI CMOS MEMS Wall Shear Stress Sensors" was one of the six finalist student papers (out of sixty papers) selected by a panel of international experts. During the conference, the authors of the six finalists papers were asked to give a six minute special presentation to the selection committee, which chose the best three papers based upon the originality, quality of research work and quality of written and oral presentation of the authors. The other co-authors with Ibraheem, also from the Department, include S. Zeeshan Ali and Dr Florin Udrea from the HVM Group, and John Coull and Professor Howard P. Hodson from the Whittle Laboratory.
The IEEE Sensors conference is the most prestigious international forum for the presentation, discussion, and exchange of information in the field of sensors.
Ibraheem Haneef is currently working under the supervision of Dr Florin Udrea (Head of HVM Group) in collaboration with Professor Howard Hodson (Head of Whittle Laboratory) on SOI CMOS based MEMS flow sensors. The novel flow sensors developed by Ibraheem during his PhD research have outstanding performance compared to the conventional sensors. These sensors have potential applications in aerospace industry for wall shear stress (or skin friction drag) measurement and in automotives as mass air-flow (MAF) sensor. Due to their extremely small size, these sensors can also be used for prognosis and diagnosis of coronary artery disease. A number of companies have shown keen interest in using these novel sensors that have already been IP protected through a UK and International patent application filed with UK Patent Office.
These sensors are being commercialised by Cambridge Enterprise, whose role is to help University of Cambridge inventors, innovators and entrepreneurs make their ideas and concepts more commercially successful. For further information on the commercial applications for these sensors please contact Dr Zlatka Stoeva at Cambridge Enterprise: Zlatka.Stoeva@enterprise.cam.ac.uk