The Department's Centre for Sustainable Development hosts an Annual Lecture Series where experts distinguished in the field of sustainable development give a presentation on their subject.
The events are free and open to the public.
The lectures are held in Lecture Theatre 0 in the Department of Engineering, Trumpington Street, Cambridge. The lectures are on Wednesday evenings, 5:30 for 6:00 p.m. The 2011 series is listed below:
For further details please contact: Dr R.A.Fenner Tel: 01223 765626; E-mail raf37@eng.cam.ac.uk
26th January
Energy Security and UK Energy Policy
Professor Ian Fells, Emeritus Professor of Energy Conversion at Newcastle University Science advisor to the World Energy Council and energy advisor to the European Union, European Parliament and the House of Lords.
Professor Fells has been science adviser to the World Energy Council and special adviser to select committees of both the House of Lords and the House of Commons as well as serving on several Cabinet and Research Council committees. He is an energy adviser to the European Union and European Parliament, has advised a number of Foreign Governments on energy policy and is a consultant to various multi-national companies. He has made over 500 television and radio programmes. His honours include the Michael Faraday Medal and prize from the Royal Society, the Melchett Medal of the Energy Institute, and the John Collier Medal of the Institution of Chemical Engineers. He was awarded a CBE in June 2000 and is a fellow of the Royal Society.
2nd February
Sustainability and the Perfect Storm (title to be confirmed)
Professor Sir John Beddington, Government Chief Scientific Adviser and Head of the Government Office for Science.
Professor Sir John Beddington succeeded Professor Sir David King as the Chief Scientific Adviser to the UK Government in January 2008. Sir John is a specialist in the economics and biology of sustainable management of renewable resources, and has previously advised UK ministers on scientific and environmental issues. He chairs the Department for Environment, Food and Rural Affairs' science advisory panel and the Defence Scientific Advisory Committee, and is a member of the Natural Environmental Research Council. He has also advised the European Commission and the United Nations Food and Agriculture Organisation.

23rd February
Sustainable Energy – an industry view on the obstacles and opportunities
Professor Ellen Williams, BP Chief Scientist Formerly Director of University of Maryland Material Research Science and Engineering Centre.
Over the course of her scientific career, physics Professor Ellen D. Williams has investigated the atomic-scale interactions on the surfaces of materials. Her research group in experimental surface science at the University of Maryland explores fundamental issues in statistical mechanics and their practical applications in the growing field of nanotechnology. Her work may help guide and usher in an era of more stable nanodevices.
Professor Williams believes that electronics eventually will be ubiquitous. But, she says, "we must continue to create technology that lowers our ecological and environmental footprint. We'll have a better life, but not if we trash the Earth while we're doing it. Dealing with these issues is absolutely the direction science has to take."
In 2005, she was elected a member of the National Academy of Sciences; two years earlier, she was selected as a Fellow of the American Academy of Arts and Sciences. She currently is taking leave of absence from her University to serve as Chief Scientist for BP.

2nd March
A Sustainable Future – The Leadership Challenge of our time
Dr Goran Carstedt, Chairman of the Natural Step International and Senior Director of the Clinton Climate Change Initiative Formerly President of IKEA North America and Head of Volvo cars.
Göran Carstedt is chairman of The Natural Step International, a non-profit organization with a scientific approach to sustainable development. Dr. Carstedt joined the Clinton Climate Initiative in January 2007 as Senior Director of the C40 initiative and is engaged in the formation of the Society for Organizational Learning (SOL) Global Network.
Dr. Carstedt is also an advisor and coach to various European, US and Asian organizations and serves as chairman and board member for several corporations. He is the former head of IKEA Retail Europe and served as a member of the IKEA Group Management Board from 1990-1997 and as President of IKEA North America from 1990-1995. Before joining IKEA , Dr. Carstedt served for many years in different executive positions with Volvo.

9th March
Managing the risks of regional climate change using knowledge action networks
Professor Charles Kennel, University of California, San Diego formerly, Director of the Scripps Institute of Oceanography, associate Administrator for NASA and chair of the NASA Advisory Council.
Professor Kennel is the former Executive Vice Chancellor of UCLA , its chief academic officer. In the 1990s he was Associate Administrator at NASA and Director of Mission to Planet Earth, the world's largest Earth science program. Kennel's experiences at NASA convinced him of the growing importance of Earth and environmental science, and he decided to devote the rest of his career to these and related fields. He became the ninth Director of Scripps Institution of Oceanography and Vice Chancellor of Marine Sciences at the University of California, San Diego, serving from 1998 to 2006. Dr. Kennel was the founding director of the UCSD Environment and Sustainability Initiative. He presently is a distinguished professor, emeritus, of atmospheric sciences at Scripps, senior strategist for the UCSD Sustainability Solutions Institute, and leads the University of Cambridge/UCSD Global Water Initiative.
He presently chairs the California Council on Science and Technology and the Space Studies Board of the US National Academy of Sciences.

16th March
Decarbonising the Transport system
Professor David Cebon and Professor Nick Collings, University of Cambridge Department of Engineering. Mark White, Jaguar Land Rover
Professor Cebon leads an active research group concerned with the design and dynamics of heavy vehicle suspensions, road damage and the micromechanics of asphalt failure. He also has interests in the use of computers in engineering design and education. He has written numerous papers on the dynamics of heavy vehicles, traffic instrumentation, road damage and materials information management software.
Nick Collings is Professor of Applied Thermodynamics in the Department of Engineering, and Head of the Division of Energy, Fluid Mechanics and Turbomachinery, at the University of Cambridge. He is responsible for the Engine Emissions Instrumentation and Control group. The groups interests are mainly IC engine control, and emissions measurement and amelioration. He is a Fellow of the Royal Academy of Engineering, the Institute of Mechanical Engineers (UK) and of the Society of Automotive Engineers (USA).
Mark White is Chief Technical Specialist, Body Engineering for Jaguar Land Rover.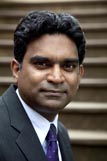 4th May
Urban Water Security - A possibility or a pipedream
Dr Kalanithy Vairavamoorthy, Director, School of Global Sustainability, University of South Florida.
Dr. Vairavamoorthy is a specialist in urban water systems. Currently he is pursuing research in the following areas: • Development of new techniques for the flexible design of urban water supply systems operating under uncertainties associated with global change. • Application of optimisation techniques for the operation & maintenance and life-cycle management of urban water systems (incl. water pipe and sewer condition assessment); • Development of risk assessment approach for the design of sustainable urban water systems operating in the 'city of the future'.