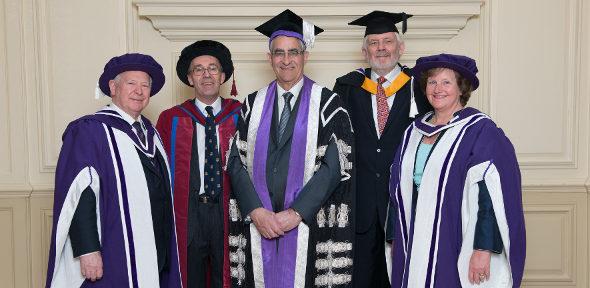 Professor Dame Ann Dowling, Head of the Department of Engineering, has been awarded an honorary doctorate by Imperial College, London.
An Imperial College London honorary degree is conferred on persons of conspicuous merit, who are outstanding in their field.
Described as a 'pioneering engineer' by Imperial's President and Rector Sir Keith O'Nions, Professor Dowling received her award at a postgraduate graduation ceremony in the Royal Albert Hall alongside industrialist and President of the Royal Academy of Engineering, Sir John Parker.
A world authority on combustion, acoustics and vibration, Dame Ann Dowling, FRS, FR Eng, became a Cambridge research fellow in 1977 and has remained at the university ever since, notwithstanding visiting posts at MIT in 1999 and Caltech in 2001. In 1993 she became the Department of Engineering's first ever female professor. In 2002 she was recognised in the Queen's Birthday honours, receiving the Commander of the British Empire medal (CBE) for services to Mechanical Engineering, and again in the 2007 in the New Year's Honours List when she received a DBE (Dame of the British Empire) for services to science. More recently in 2011 she was awarded a UKRC award for her 'Inspiration and Leadership in Academia and Research'.
Her work in aeronautics and energy has been recognised by fellowships of the Royal Society and Royal Academy of Engineering, and foreign associate membership of both the US National Academy of Engineering and the French Academy of Sciences.
Professor Dowling is a non-executive director of BP, a panel chair for the Research Excellence Framework and, as rated by BBC Radio Four's Woman's Hour, one of the 100 most powerful women in the country.