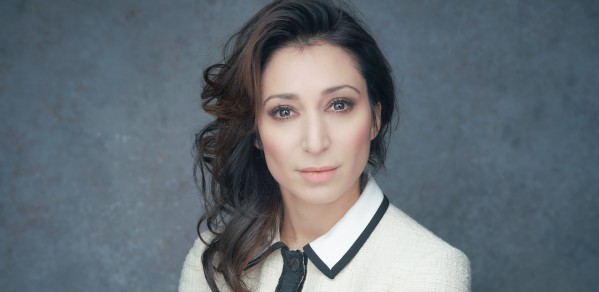 Alumna Heba Bevan, the founder of UtterBerry Ltd, has been awarded an OBE for services to innovation, technology and STEM education.
Everybody was talking about the Internet of Things, but UtterBerry took that vision and developed it.

Heba Bevan
Heba Bevan took her love of art and maths to create a new vision for sensors.
Shortly after graduation, when working as a technical sales engineer for British multinational semiconductor and software design company ARM, she first began to see what affected the outcomes of different businesses. As part of the job she spent a day each week working for clients at small to medium sized enterprises (SMEs).
Strength to strength
Bevan set up UtterBerry in 2013 and the company has gone from strength to strength, with its products now being used on projects such as Crossrail.
UtterBerry produces miniature, wireless, ultra-low power sensors combined with artificial intelligence. They are designed for infrastructure monitoring. The technology offers AI capabilities so that it can be self-calibrating and capable of analysing data in real time.
Crossrail's Eleanor Street tunnel construction site has used UtterBerry sensors. They are enabling surveyors to remotely monitor the conditions and structural health of the tunnel from their offices, without having to enter potentially unsafe sites, through the use of the sensors.
UtterBerry products have also been used on two level crossings in West Sussex and were able to detect in real time the number of vehicles, people and animals passing through the level crossing as well as the vehicle speed.
But how did Bevan, an electronics and computer engineering graduate, get to the point where she is now running a multi-award winning firm which is being used by some of the world's biggest civil engineering projects?
It is a combination of Bevan's talent and some canny decision making.
Daughter of academics
Yorkshire-born Bevan is the daughter of academics, and much of her childhood was spent living in various European countries while she and her siblings followed their parents' careers.
Excelling at maths and art at school, her undergraduate years were far from the student stereotype. Alongside her studies she fitted in several internships at ARM, so that when she graduated, she was so embedded in the firm that a job there as an integral designer of the ARM Cortex processors was a natural progression.
With this head start it is no surprise that by the age of 22, Bevan was working for ARM in Silicon Valley in the United States, and going to meetings with clients such as Apple and Google on her own. She returned to academia as a research programmer at Rice University in Houston Texas, working on the PACE Project, a major programme for US defence agency Darpa.  
Heba and her husband then returned to the UK where she decided to do a PhD at the University of Cambridge, Department of Engineering, to research low power wireless sensor networks for subterranean mass-rapid transportation applications. And it was here that UtterBerry started to take off, with her choice of university being one of her first business decisions.
"At most universities, you don't own your IP [intellectual property], but at Cambridge you do," she says.
And it was here that the UtterBerry concept was formed.
Inter-asset communication
"My vision was that you and I can communicate, for example on email or on the telephone, but you don't have 'things' communicating such as a building communicating with a tunnel.
"That was when I thought sensors have to be smaller, and easier to install and have a lot of capability. There are a lot of sensors on the market which just collect the data and do not process it, provide artificial intelligence or machine learning. I thought if there needs to be communication and decision taking, the sensors need to have that capacity and algorithm."
Recalling when she set up UtterBerry in 2013 she says: "Everybody was talking about the Internet of Things, but UtterBerry took that vision and developed it.
"You have to design something which people actually need, not just a new product. And then people need to take it and make it their vision."
Throughout the establishment of UtterBerry, Bevan has utilised the business support available to her, for example the business support provided by the University of Cambridge.
Crossrail application
Bevan took the product to market, with its first major use in Crossrail's Royal Mail Tunnel at Liverpool Street in London. There the project in conjunction with the Cambridge Centre for Smart Infrastructure & Construction, was to develop monitoring and data-collecting systems to monitor the effects of Crossrail's tunnel excavation work on existing infrastructure.
Crossrail went on to play a huge part in the success of UtterBerry through its work at the Eleanor Street shaft. Costain-Skanska deployed the technology at a closed shaft, which contractors had to monitor during excavation work. The UtterBerry system was installed in one day by one person.
The technology enabled surveyors to safely monitor the tunnel from their offices. Data was available immediately, including temperature and humidity readings. In one instance it flagged up the presence of water in the shaft, helping the contractor to locate a broken pump.
Diversifying
Today UtterBerry is moving into new areas including healthcare. It has also started making in-roads into the Chinese market, and a representative was asked to form part of the UK-China TechHub 2016 delegation organised by the Department for International Trade.
Success for Bevan has been about coming up with a product the civil engineering sector needs and then explaining to clients what it can do for them. All the time she is fiercely protective of her work and ensuring the product is continually innovated and improved.
During the interview she drinks tea from a delicate, hand-painted china cup. She remarks on the level of craft that went into it, how she likes the fact that she can see the brush strokes. She demands that same attention to detail  in electronics manufacturing. She is now talking with the Welsh Government about the possibility of setting up a manufacturing facility in Wales.
She says there is one more essential component to starting a SME: hard work and continuous improvement.  "You have to work very hard and keep on working. You can't be satisfied with saying 'it's done and that's it'."
This article is written by Emily Ashwell and was originally published on the New Civil Engineer website.