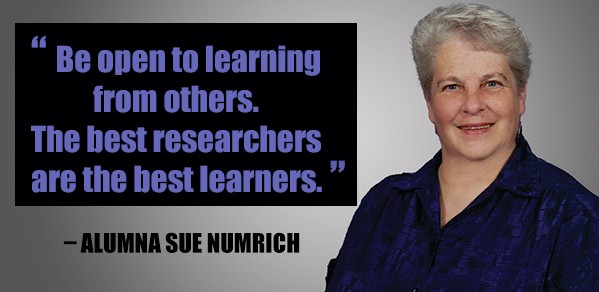 Alumna Sue Numrich has enjoyed a long research career in the field of national security. Having started out as one of only a few female scientists working in her field, Sue has risen through the ranks to lead on and contribute to cutting-edge research, ranging from experiments on future defence concepts to assessments of the global war on terrorism. She has since been honoured with an American award for excellence in research.
My advice to other women is to always do your very best, give of yourself to help others, ask for advice from someone who seems to have it all together, and never give up. Do not be afraid to be an opportunist, even if you think you may not be qualified. Take the risk.

Alumna Sue Numrich
Sue is a physicist and a member of research staff at the Institute for Defense Analyses (IDA), a non-profit corporation headquartered in Alexandria, Virginia, in the United States. She has dedicated many years to advancing the role of women in national security. More recently, her accomplishments and intellectual leadership within the IDA community have been recognised with the 2020 Goodpaster Award for Excellence in Research. The Award is named in honour of former IDA president and trustee Andrew J. Goodpaster and Sue describes the accolade as one of her proudest accomplishments.
In addition to achieving a PhD in Physics, Sue earned a postgraduate certificate in mechanical engineering from the University of Cambridge in 1986. At the time of choosing to study at Cambridge, Sue was a research physicist employed by the U.S. Naval Research Laboratory in underwater acoustics and was looking forward to a sabbatical year to acquire additional expertise.  
"I had read the work of Professor Shôn Ffowcs-Williams and had spoken with him about spending a year working with him on the scattering of acoustic waves from submerged shells," she said. "When I was at Cambridge, one of Professor Ffowcs-Williams' colleagues was Professor Dame Ann Dowling, so I also had the privilege of working in association with another woman professional. In my current work, I use my specialty in mechanical engineering only occasionally; however, I have found the intellectual stimulation of Cambridge to be a continuing factor in my analyses in many other fields.
"I am fascinated by how things work and how Mother Nature works in particular, even to the point of doing shipboard research in the Arctic at the edge of the ice pack (which is virtually non-existent now). These days, I can be handed work to assess in disciplines ranging from natural language processing and high performance networking to envisioning new ways of information flow in complex environments. I find applying my technical understanding and mental frameworks to each new situation exciting and see it as an opportunity for intellectual growth."
Women in leadership
"Part of the problem of attracting women to begin their careers and remain in STEM fields, is the absence of women role models, particularly in leadership roles," said Sue. 
"Starting in our middle schools, the time when students encounter teachers with specialties in technical disciplines (in the U.S. this is the 7th through to 9th grades), the teachers are almost exclusively men, with the greatest number of exceptions in mathematics and the biological sciences. Women are seen as physicians, as mathematicians, and as computer scientists, but not as engineers and physical scientists or technologists.  There have been barriers to women who have entered these fields in the past – barriers that have prevented them from having leadership roles. While many of these barriers have been identified, their removal will take time.
"Women are often lauded for their expertise in supporting roles and not given the opportunity or encouragement to move into leadership positions. One of the least recognised benefits of working in STEM fields is that there is generally always work, even if a woman chooses to take time out to raise children and then re-enter the workplace some years later. Re-entry is far easier than in many other fields."
As a mentor to early career staff and counsellor for many others at IDA, Sue enjoys the challenge of finding ways around problems and alternative perspectives on situations. 
"To lead is to enable," said Sue. "When I lead a project, my role is to draw out of the participants the very best they can give personally and intellectually. If I can pass on something I know or help someone understand a topic or circumstance, I consider myself fortunate.
"One of the misconceptions in the area of national security is the notion that women are not interested in it as a career, so there is no point in seeking them out. Recruiting is another problem, as the men who do the recruiting are comfortable with people who look like them and who have a similar background."
Do your best, help others and never give up
Sue has been a teacher and lecturer for 20 years, the first chair of the Interservice/Industry Training, Simulation, and Education Conference (I/ITSEC) Tutorial Board, and she is the only woman – to date – to have been named an I/ITSEC Fellow, a recognition she received in 2018. 
"My advice to other women is to always do your very best, give of yourself to help others, ask for advice from someone who seems to have it all together, and never give up. Do not be afraid to be an opportunist, even if you think you may not be qualified. Take the risk. Always provide what the employer (or sponsor or professor) asked for, but add to it what should have been requested. Unearthing new approaches and achieving better results demonstrates the best kind of initiative. Respect the capabilities of others and don't be afraid to admit your own limitations – but then extend your capabilities by being open to learning from others. The best researchers are the best learners."