Alumnus Andrew Smyth, who was runner-up on the recent series of BBC competition The Great British Bake Off, returned to the Department to take part in a lecture on food and engineering.
I have no doubt that Andrew has inspired the students, and fingers crossed we may have another Great British Bake Off contender among us who is keen to show the world what is possible when engineering and baking unite.

Dr Hugh Hunt
Andrew, who studied Engineering and graduated in 2013, joined the session on March 10 via Skype. He gave insight into what he had learned during his degree and how it had assisted him in his career as an aerospace engineer for Rolls-Royce, designing jet engines.
Led by Dr Hugh Hunt, Reader in Engineering Dynamics and Vibration, the pair discussed the world of baking and how engineering had helped play its part in some of Andrew's competition showstoppers such as the gingerbread River Cam punting scene.
Experiments were carried out in front of current students to help illustrate the Plastic Theory of bending. Dr Hunt examined the rigidity of uncooked spaghetti, which breaks into multiple pieces when it is snapped in half. He was joined by Dr James Talbot, Lecturer in the Performance-Based Design of Structures, who compared the pasta with crackers, which although stronger and less bendy, can be reinforced further by adding edible laces to create a hinge. See the video above for the demonstration.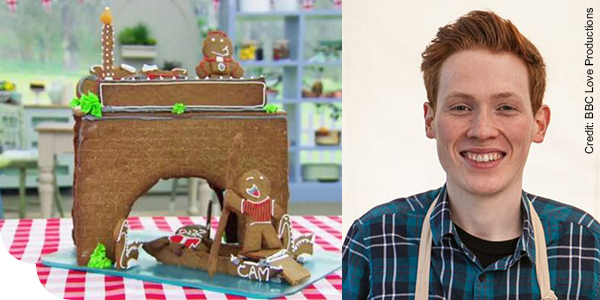 When asked why he chose to study engineering, Andrew said: "Engineers often have a reputation as dull and being buried away in the library, but I enjoyed the variety. You don't have to be a one-stop shop. I'm a bit of a jack of all trades; I do engineering, I do some music on the side, and then baking.
"My project in the fourth year was on deployable structures for the de-orbiting of space satellites. I enjoyed it because it had a bit of aerospace and structures and I wanted to do something a bit more hands-on.
"My job involves a lot of problem solving and I often just go back to first principles [that I learned at Cambridge] as this is one of the first things you do when it comes to solving a problem," he added.
Andrew, who for The Great British Bake Off's Tudor challenge created a moving set of mechanical gear-shaped savoury pies, said the TV competition had presented him with an opportunity to combine his knowledge of engineering with baking.
"The Great British Bake Off contestants were all very determined and I tried to bring all my engineering expertise to the final. My spreadsheet didn't let me down," he said.
Dr Hunt said: "It was fantastic to welcome Andrew back to the Department in this way. He threw himself wholeheartedly into the engineering mechanics lecture, even taking part in the experiments himself, and opened up about life as an aerospace engineer.
"I have no doubt that he has inspired the students, and fingers crossed we may have another Great British Bake Off contender among us who is keen to show the world what is possible when engineering and baking unite."