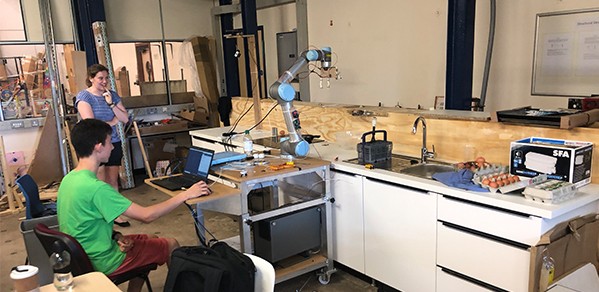 A new experimental space dedicated to research in human-machine collaboration has been launched at the Department of Engineering for use by different University departments, industry and government institutions.
Our vision is to advance the technology of intelligent machines, designed and built with humans in mind, allowing humans and machines to work together. 

Dr Fumiya Iida
The Observatory for Human-Machine Collaboration (OHMC) aims to put people at the centre of the machine intelligence revolution, by encouraging cross-disciplinary research that brings to the fore disruptive solutions for our societal challenges, such as elderly care, and transforming our fundamental understanding of human-machine collaboration.
Funded by the University of Cambridge Academic Seed Fund, the OHMC provides a shared experimental space on the main site of the Department of Engineering, with equipment and facilities for both the private sector and academic researchers. Examples currently in situ include a robotic kitchen and a conveyor belt set-up, with access to motion capture cameras and various test instruments. The equipment allows for data gathering and repeated observation of experiments, and the instruments can be deployed in multiple configurations throughout the space.
The OHMC's first industry collaborator, domestic appliance company Beko, is passionate about designing the kitchen of the future and it believes robotics applications will play a crucial part. This year, Cambridge engineers collaborated with Beko on new research which used machine learning to train a robot to prepare an omelette from scratch. The research, led by Dr Fumiya Iida, Chair of the OHMC committee, was conducted in a test kitchen supplied by Beko plc and Symphony Group.
Dr Iida said: "Boosting our understanding of complex embodied interactions between humans, machines and the environment – without compromising on, for example, experimental space and scaling up opportunities – is of the utmost urgency in order to address many high-impact societal challenges. Our vision is to advance the technology of intelligent machines, designed and built with humans in mind, allowing humans and machines to work together. 
"The Observatory for Human-Machine Collaboration provides an experimental space for use by interdisciplinary researchers (in robotics, computer science, neuroscience, psychology, education, philosophy etc.) and industry sectors (manufacturing, agriculture, healthcare, domestic consumer market etc.). These human-machine collaborations will have an impact on industry, leading to innovations in manual task automation (in agriculture, hospital and supply chain settings), remote working and communications (concerning social distancing and extreme environment jobs), and home automation (elderly care, rehabilitation)."
Small equipment funding call
To support ongoing collaborative research opportunities, the OHMC has launched an internal call for small equipment proposals for use in the experimental space. A total of £100,000 is available for this funding round to fund two to six projects. 
This is a restricted call for academics of the University of Cambridge only, but collaborations with external partners are encouraged. The deadline for submission is Friday 23 October.