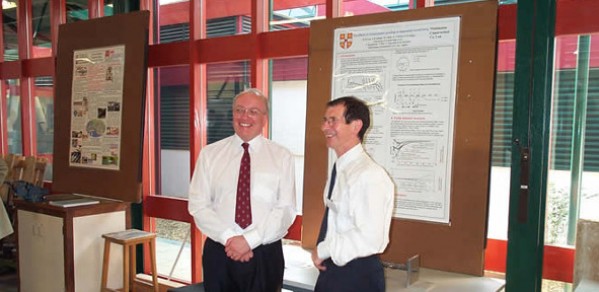 The Geotechnical Engineering Research Group hosted a celebration to mark the operational opening of the Schofield Centre on Wednesday September 4th 2002.
The Open Day had the theme "Geotechnical Process and Construction Modelling", and featured tours of the research facilities. Professors Malcolm Bolton and Robert Mair delivered theme lectures on 'The mechanics of geo-processes' and 'Limiting disturbance due to underground construction.' Guests were able to discuss the recent output from the 40-strong research group and see the modelling technology in action.
Over 150 alumni of Soil Mechanics and Geotechnics at Cambridge were invited to attend (click on the thumbnails to the right to see larger images.
The new Centre for Geotechnical Process and Construction Modelling is located at the University of Cambridge's West Cambridge site. Designed by Cambridge architects Annand and Mustoe, the two-storey building was funded by a £2 million grant from the Joint Infrastructure Fund, an initiative led by the Wellcome Trust and the UK Research Councils.
The new building, which was formally opened in November 2001, was designed around the existing Schofield Centrifuge Centre, which opened in 1986 and is named after the University's Emeritus Professor of Soil Mechanics, Andrew Schofield, who was present at the September celebration.