The winners of the Department's inaugural Helios Prize – awarded for graduate research in sustainable energy or energy efficiency – have been announced.
It's wonderful to have a prize like this dedicated to research in sustainable energy and energy efficiency – a topic of great magnitude and significance, both to the University and to the whole of society. 

Professor Richard Prager
Amanda Smyth and Lachlan Jardine, PhD students in the Whittle Laboratory, accepted their cash prize and a brass medal depicting the Greek sun god, Helios, for their co-authored conference papers: Three-Dimensional Unsteady Hydrodynamic Modelling of Tidal Turbines and The Effect of Heat Transfer on Turbine Performance, respectively. The runner-up was Jeremy Watson, PhD student in the Control Group, for his co-authored research paper titled Optimized Dispatch of Energy Storage Systems in Unbalanced Distribution Networks.
The prize is made possible thanks to a generous donation from Cambridge alumnus John Firth. He approached the Department specifically to set up the prize in honour of graduate work in sustainable energy or energy efficiency, and asked that the prize be named after Helios, because the world's renewable energy is fundamentally driven by solar energy. 
The medal itself was crafted by Alistair Ross, Manager of Design and Technical Services at the Department of Engineering, who machined it on-site using a 3D pantograph, drawing inspiration for the design from a Helios coin loaned to him by the Fitzwilliam Museum, believed to date from the 2nd to 1st century BC.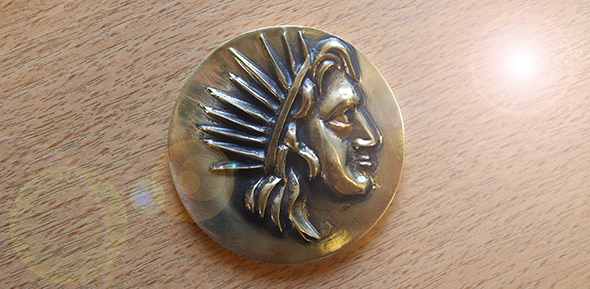 During the presentation of the medals at the Whittle Laboratory, John Firth inspired the researchers with the thought that even a seemingly insignificant step in a research lab can ultimately have a profound effect on the generation of sustainable energy in the future once it is implemented and rolled out across the world.
Professor Richard Prager, Head of the Department of Engineering and part of the judging panel, said: "It's wonderful to have a prize like this dedicated to research in sustainable energy and energy efficiency – a topic of great magnitude and significance, both to the University and to the whole of society. Many branches of Engineering in our Department are able to contribute in one way or another and we have several significant groups in the field already. This annual prize will help to build up enthusiasm and focus our research in this area."