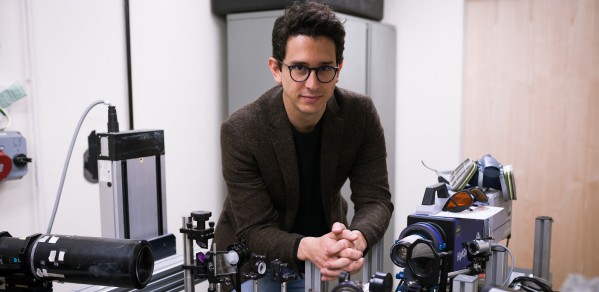 Dr Pedro Magalhães de Oliveira is a winner of the Clean Sky Academy Award for the Best PhD Thesis in Applied Sciences and Engineering for Aeronautics.
This award reflects the great novelty and importance of Pedro's thesis in the field of aviation fuels and propulsion. With his experiments and models, he offered a step-change in our understanding of ignition and his results are now being used regularly by Rolls-Royce when designing new jet engines.

Professor Epaminondas Mastorakos
Dr Magalhaes de Oliveira's thesis explores how small-scale droplet-induced flow phenomena influence the 'birth' of a flame. The formation of a flame kernel and its transition into a self-sustained flame – the process known as forced ignition – was investigated through experiments, from which physical insight was drawn to develop an ignition model. The model has been transferred to industry and the findings of his work have contributed towards international efforts to streamline the certification of alternative jet fuels.
The award will be given at an online event in October 2020.
PhD Thesis title: Ignition and propagation mechanisms of spray flames. Supervisor: Professor Epaminondas Mastorakos.
Dr Magalhaes de Oliveira's PhD work was also selected as one of the best three at the Osborne Reynolds Competition 2020.
Clean Sky Academy
The European Commission's Clean Sky 2 Joint Undertaking awards distinguish young scientists who have recently completed a PhD thesis in the field of aeronautics. The Award acknowledges outstanding achievements of three young persons at the start of their scientific careers.
The Clean Sky Joint Undertaking is a partnership between the European Commission and the aeronautics industry to deliver quieter and more environmentally friendly aircrafts, being Europe's foremost aeronautical research body.
Osborne Reynolds Competition
In his honour and name, the Osborne Reynolds Day programme normally features presentations by some of the UK's brightest newly-graduated and soon-to-graduate PhDs in fluid mechanics. The 2020 edition offered prestigious awards that celebrate the quality of students and graduates who have been pursuing doctoral level research across the broad domain of fluid mechanics including turbulence, multi‐phase, stratified and free‐surface flows, convective transport processes, combustion and acoustics.
This year's Osborne Reynolds Competition selected the three best works, which were then sent as the UK's entry to the 2020 da Vinci Competition organised by the European Research Community On Flow, Turbulence and Combustion (ERCOFTAC). The latter, to be held at the Sapienza Università di Roma in October, awards a prize to an excellent PhD thesis in theoretical and applied fluid dynamics and outstanding scientific contributions with engineering relevance.
Reference 
Magalhães de Oliveira, P. (2019) Ignition and propagation mechanisms of spray flames.Doctoral thesis). https://doi.org/10.17863/CAM.44744