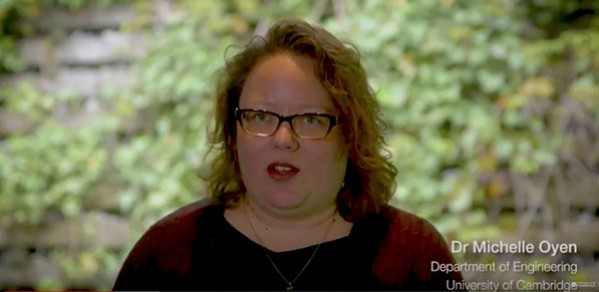 To coincide with the launch of the Cambridge Academy of Therapeutic Sciences, researchers discuss some exciting developments in medical research and set out their vision for the next 50 years
In 50 years, you might just be able to walk into a room and there be shelves full of donor parts for all different tissues in the body because of tissue engineering.

Dr Michelle Oyen
In a new film, published today, Dr Michelle Oyen, Reader in Bioengineering, talks about using artificial scaffolds to create 'off-the-shelf' replacement organs that could help solve the shortage of donated organs.
She said: "Humans are living longer and longer, and of course we've dramatically changed life expectancy over the last 100 years or so with the introduction of antibiotics. So the quality of our tissues decreases with time and that means as we live older, we're going to need more replacement parts, not necessarily just to stay alive, but for our quality of life as well.
"Scaffolds are used for tissue engineering when we make an artificial tissue. Tissues have two components; they have cells and the material – the extra side of the matrix. So our scaffolds mimic the material parts and then if you add cells to that then you can engineer a new tissue."
Watch Dr Oyen from 1:58.
Dr Oyen foresees the future of medicine progressing to a stage where you wouldn't necessarily have to wait for a donor in order to get a replacement part.
"In 50 years, you might just be able to walk into a room and there be shelves full of donor parts for all different tissues in the body because of tissue engineering," she said.
Also featured in the film, are other Cambridge researchers discussing some of the technologies they are developing: from nanobots that patrol our bodies, killer immune cells hunting and destroying cancer cells, and even biological scissors that cut out defective genes.
All of these developments will help transform the field of medicine, says Professor Chris Lowe, Director of the Cambridge Academy of Therapeutic Sciences, who sees this as an exciting time for medicine. New developments have the potential to transform healthcare 'right the way from how you handle the patient to actually delivering the final therapeutic product – and that's the exciting thing'.
Read more about research on future therapeutics in Research Horizons magazine.