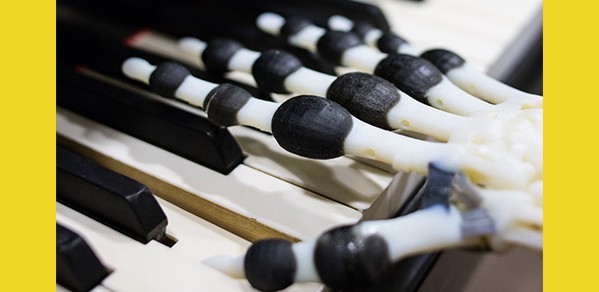 The Department of Engineering's Bio-inspired Robotics Laboratory is shining a spotlight on the research field of embodied intelligence as part of a free online webinar running from 24-26 March. The webinar will also include a public engagement session aimed at secondary school children and their families.
We are encouraging all of our workshop participants to submit their views on embodied intelligence research. We also hope to inspire the next generation of robotic engineers with a panel discussion and experiments.

Dr Fumiya Iida
Supported by the Engineering and Physical Sciences Research Council (EPSRC) and chaired by Dr Fumiya Iida, Reader in Robotics, the International Workshop on Next Generation Embodied Intelligence seeks to gain further insights into intelligence, and explore how our brain and people as a whole develop through physical interactions with the world. The workshop will bring together world leaders of this research area to review the state of the art and to discuss future research directions and collaborations.
Each morning and afternoon session, running across the three days, consist of plenary talks, panel discussions (including flash talks by leading researchers), and breakout sessions, details of which are available to view online. 
Register to attend the workshop.
Public engagement
Meanwhile, a 'Future of robotics' public engagement session will be held on Friday 23 April, 1pm-3pm BST. Aimed at secondary school children in particular, the free session will seek to answer the following questions: What is intelligence? Can a robot exist without a brain? What will the robots of the future look like? 
Register to attend the public engagement session and hear from world experts in robotics and Artificial Intelligence (AI).
Dr Iida said: "In the age of AI and Machine Learning, the research of embodied intelligence is still highly important, providing valuable input to extend the impact of conventional AI technology in the near future. 
"We are encouraging all of our workshop participants to submit their views on embodied intelligence research. We plan to allocate participants with a short time slot in one of the breakout sessions to facilitate more focused and technical discussions in the research areas of soft robotics, developmental-evolutionary robotics, neuro-cognitive science, artificial life, AI, biophysics, and philosophy of science.
"We also hope to inspire the next generation of robotic engineers with a panel discussion and experiments, featuring scientists from UK universities who will discuss the future of robotics research and the industry, including the latest technology in healthcare, agricultural and bio-inspired robotics."