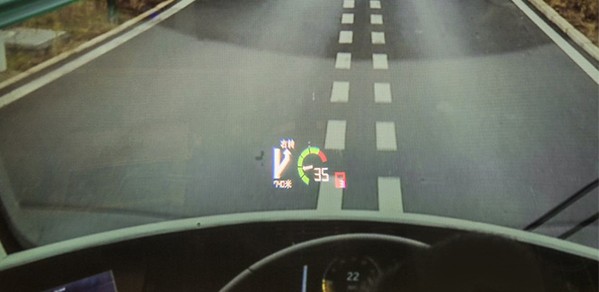 Dr Yuanbo Deng, Research Associate in Novel Head-Up Displays (HUDs), has been announced a winner of the 2020 Postdoc Business Plan Competition.
REAVIS aims to bring head-up displays (HUDs) to all cars, by using its patented technology to reduce the cost of HUDs by at least 40% and shorten the research and development cycle significantly.

Dr Yuanbo Deng
Dr Deng was awarded Second Prize of £10,000 investment in Cambridge start-up REAVIS, which has invented a low-cost HUD that can be adapted for use in passenger cars, commercial trucks and urban trains. The technology works by projecting a transparent digital image of driving and navigational information in front of the driver onto the windscreen of the vehicle. This technology helps to keep the driver's attention on the road ahead, as opposed to looking down for the same information on the dashboard or the navigation system.
With the rapid advancement of communication and sensor technologies, the next generation of HUDs – Augmented Reality (AR) HUDs – will be able to project real-time critical driving information, for example, Advanced Driver Assistance System (ADAS) alerts and navigational signals, as a digital overlay onto real-world objects.
Unlike the traditional HUDs that present static information, AR-HUD displays images that interact with real-world objects. It is predicted that AR-HUDs will play the role of in-car human-machine interface terminal. This means that in the early stage of self-driving (Levels 1-4, where Level 4 is considered to be fully autonomous driving), AR-HUDs will allow the building of trust for autonomous driving by demonstrating the coming actions that will be taken by cars (before they are made) and the rationals behind the decisions. When the ultimate stage, Level 5 arrives, the Point of Interest (PoI) information, messages, or even graphics for entertainment can be displayed for the front-seat passengers.
"REAVIS aims to bring HUDs to all cars, by using its patented technology to reduce the cost of HUDs by at least 40% and shorten the research and development cycle significantly," said Dr Deng, who came up with the idea for REAVIS while working at the Cambridge Centre for Photonic Devices and Sensors (CPDS) on a research project.
"REAVIS' technology can make AR-HUDs cheaper and better. Currently, a customised wedged windscreen is needed to eliminate the ghost image (a secondary image that appears with and which is slightly displaced from the primary HUD image). This is expensive and difficult to make, but REAVIS' Ghost Image Free (GIF) technology enables HUD image projection on normal windscreens at all virtual image distances. It can also work on extra thick and highly curved windscreens, so the technology can be quickly applied to different types of vehicles. REAVIS is also planning to combine its GIF technology with 3D and holographic displays for a more comfortable viewing experience with enhanced AR effects."
"Besides the market of passenger cars, this technology has also attracted the attention of manufacturers of high-speed trains, trams and commercial vehicles such as trucks," he added. "We plan to use the £10,000 prize money for developing a prototype for cars and building a demo table to attract more potential customers."
Dr Deng was one of six finalists to give a virtual presentation of his business plan at the Grand Finale of the competition, run by Cambridge Enterprise and the Entrepreneurial Postdocs of Cambridge (EPoC). He then went on to answer questions from the judging panel comprised of Christine Martin, Deputy Head of Seed Funds at Cambridge Enterprise; Keith Blundy, Cambridge Enterprise Investment Committee; Carol Cheung, Principal at CIC; and Maximilian Ge, President of EPoC.
The audience also heard from previous winners Tongtong Zhu, Co-Founder of Poro Technologies, and Simon Baker, Co-Founder of Versed AI. Professor Andy Neely, Pro-Vice-Chancellor for Enterprise and Business Relations at the University, gave a speech in which he expressed being "blown away" by the quality of the pitches, the quality of the ideas, the passion of the presenters, and the potential of their innovations.
Professor Neely went on to recall the late Professor Chris Abell, who passed away unexpectedly in October, describing him as "one of the University's most inspiring entrepreneurs" and "one of the great movers in embracing commercialisation of University research outcomes as well as acknowledging and integrating postdoctoral researchers into the University". 
To honour Professor Abell and his contributions, the competition will be named The Chris Abell Postdoc Business Plan Competition and will be open for entries in May 2021. "In doing this, we will continue to recognise his enormous contribution to science, innovation, supporting the postdoctoral community, and ultimately contributing to society," said Professor Neely.
This article has been edited from the Cambridge Enterprise website.