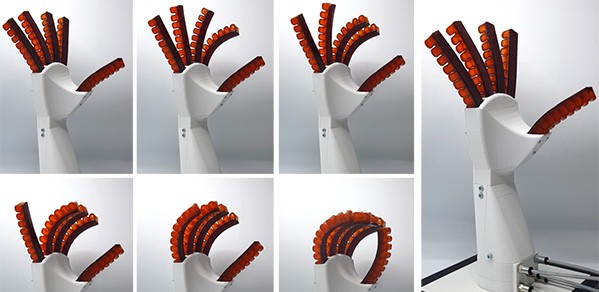 Researchers from the University of Cambridge will use self-healing materials and machine learning to develop soft robotics as part of a new collaborative project.
We will be using machine learning to work on the modelling and integration of these self-healing materials, to include self-healing actuators and sensors, damage detection, localisation and controlled healing.

Dr Thomas George Thuruthel
The goal of the €3 million Self-healing soft robotics (SHERO) project, funded by the European Commission, is to create a next-generation robot made from self-healing materials (flexible plastics) that can detect damage, take the necessary steps to temporarily heal itself and then resume its work – all without the need for human interaction.
Led by the University of Brussels (VUB), the research consortium includes the Department of Engineering (University of Cambridge), École Supérieure de Physique et de Chimie Industrielles de la ville de Paris (ESPCI), Swiss Federal Laboratories for Materials Science and Technology (Empa), and the Dutch Polymer manufacturer SupraPolix.
As part of the SHERO project, the Cambridge team, led by Dr Fumiya Iida, Reader in Robotics, are looking at integrating self-healing materials into soft robotic arms.
Dr Thomas George Thuruthel, Research Associate in Soft Robotics Sensing and Self-Healing at the Department of Engineering, University of Cambridge, said self-healing materials could have future applications in modular robotics, educational robotics and evolutionary robotics where a single robot can be 'recycled' to generate a fresh prototype. 
"We will be using machine learning to work on the modelling and integration of these self-healing materials, to include self-healing actuators and sensors, damage detection, localisation and controlled healing," he said. "The adaptation of models after loss of sensory data and during the healing process is another area we are looking to address. The end goal is to integrate the self-healing sensors and actuators into demonstration platforms in order to perform specific tasks."
Professor Bram Vanderborght, from VUB, who is managing the project with scientists from the robotics research centre BruBotics and the polymer research lab FYSC, said: "We are obviously very pleased to be working on the next generation of robots. Over the past few years, we have already taken the first steps in creating self-healing materials for robots. With this research we want to continue and, above all, ensure that robots that are used in our working environment are safer, but also more sustainable. Due to the self-repair mechanism of this new kind of robot, complex, costly repairs may be a thing of the past."
Empa will focus on new flexible sensors and actuators that can be embedded into the self-healing polymers. Dr Frank Clemens, Group leader at the Laboratory for High Performance Ceramics, Empa, said: "In a first step, we will embed our piezoresistive soft material sensor fibres in the self-healing polymer to sense continuously the strain and to detect the region where self-healing process has to be activated. In a later step, other kinds of sensor and actuators will be integrated, depending on the final application."
ESPCI-Paris, where the first self-healing elastomeric materials were created, will also participate in the project. A spokesperson said: "We are excited to be part of this ambitious research project at the crossroads between soft matter physics, materials chemistry and information science. Soft robotics is an excellent opportunity for involving new materials."
Dr Bosman, from SupraPolix, said: "We feel privileged to be a partner in this consortium of Europe's top research groups on soft robotics. We are convinced that our self-healing materials can bring this field to the next level, thereby creating value for SupraPolix, robotics, and the community at large."