Since joining the Department of Engineering, Dr Matt Cole, Oppenheimer Research Fellow in the Centre for Advanced Photonics and Electronics, and Fellow of St Edmund's College, has made significant achievements in research, industry, teaching and outreach.
A graduate of Engineering Science from the University of Oxford, following a research placement at Harvard University, Cole completed his PhD in flexible electronics under Professor Bill Milne in 2011. Now his work focuses on carbon nanotubes and graphene nanomaterials, including their synthesis, alignment and their integration into nanocarbon-based field electron emission devices.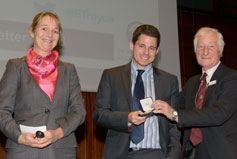 Alongside Professor Milne, Dr Jonathan Cameron and Richard Parmee, Cole founded the spinout company Cambridge Xray Systems, a company with the goal of commercialising the team's ongoing research on the development of nanomaterial-based X-ray sources. "The company is very much an outlet for the various devices we have developed in the lab," Matt said. "These emerging nanoscale materials afford a degree of manufacturability and functionality not yet seen in other material platforms". 
Cole's enthusiasm for science and technology plays into the breadth of activities with which he is engaged, in particular his outreach and teaching. He is a College Teaching Officer, Admissions Tutor and Director of Studies (DoS) in Engineering at St Edmund's College. He is a passionate Science, Technology, Engineering, and Maths (STEM) Ambassador, working with STEM Team East, a group dedicated to promoting science education to young people. "My outreach work and teaching are very rewarding," Matt said. "Here at Cambridge, as DoS, I guide a handful of undergraduates at St Edmund's through the challenging Engineering Tripos. Going out to STEM events is very different – you might talk to two, three hundred students. It's a great opportunity to connect the wider public with your research."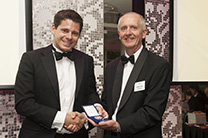 In 2015 Cole was the recipient of several prestigious awards and honours. He received the 2015 Institution of Engineering and Technology (IET) Sir Henry Royce Medal for his research on nanomaterials and the production of novel X-ray sources; the Institute of Materials, Minerals and Mining (IOM3) Silver Medal, given to younger researchers for contributions to materials science; and the Royal Academy of Engineering Sir George Macfarlane Medal, for his work in nanoscale materials science. Commenting on the awards, Matt said: "I am very honoured indeed. It's an absolute privilege to be recognised by such leading Institutions".
2016 has seen a similarly shining start, with Cole's listing in Forbes magazine's '30 Under 30'. Featuring Europe's top young leaders, creative inventors and entrepreneurs, Cole was listed in the Science and Healthcare category for his role in founding Cambridge Xray Systems.