Professor Mark Welland, Head of the Nanoscale Science Laboratory in the Department of Engineering, has been appointed Director of a new Interdisciplinary Research Collaboration (IRC) in Nanotechnology.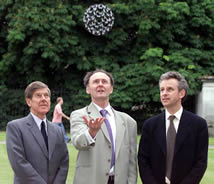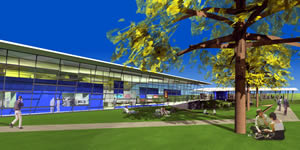 The IRC, which is to be housed in a new building on the West Cambridge site near to the Cavendish laboratory, has already attracted research funding of £9 million pounds from three of the Government's Science Research Councils:
the Engineering and Physical Sciences Research Council,
the Biotechnology and Biological Sciences Research Council,
the Medical Research Council, and
the Ministry of Defence.
"This unique partnership of funding agencies underlines the strategic importance of nanotechnology and its multi-disciplinary outlook," comments Mark Welland. "Nanotechnology involves the manipulation and manufacture of objects on an atomic scale. Enormous advances have been made in this science in the last 20 years and already the tools needed to make and measure infinitesimally small objects have become commonplace.
We will now begin to see extraordinary advances in manufacturing using these tools: computers will shrink, medical diagnosis and treatment will be almost instantaneous and non-invasive, energy wastage will be dramatically reduced."
The Cambridge IRC will bring together elements of nanofabrication from the Department of Engineering and the Department of Physics, and will provide a focus for the activities of Chemistry, Materials Science and Metallurgy, and life sciences departments. University College London and the University of Bristol will also be partners in the IRC.
"Cambridge has a well established leadership in the field and the additional strengths of University College London and the University of Bristol will establish an unbeatable alliance for nanotechnology research", says Mark Welland.
The seven principal investigators in the Cambridge IRC are: Professor Mark Welland (Cambridge, Engineering); Professor Richard Friend (Cambridge, Physics); Dr Mark Blamire (Cambridge, Materials Science and Metallurgy); Professor Chris Dobson (Cambridge, Chemistry); Professor Mervyn Miles (Bristol, Physics); Dr Andrew Fisher (UCL, Physics); Professor Michael Horton: (UCL, Medicine).