The new Centre for Geotechnical Process and Construction Modelling at the University of Cambridge's West Cambridge site was opened on 17th November by Mark Whitby, President of the Institution of Civil Engineers.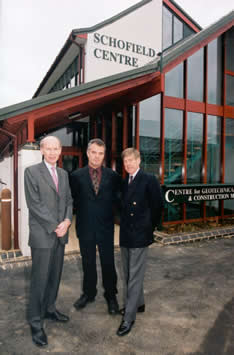 Geotechnical Engineering involves studying the behaviour of soils and rocks under certain conditions, and then applying that knowledge to civil engineering design and construction. Knowing how ground might change during an earthquake, or whether it will collapse if a tunnel is built through it, or whether innovative foundation solutions are appropriate, is crucial in planning major civil engineering projects.
"The Geotechnical Research Group at Cambridge is one of the biggest and most prestigious of its kind in the world. This new Centre will put us in an excellent position to investigate, explain and solve many vital problems facing engineers," said Robert Mair, Professor of Geotechnical Engineering at Cambridge, who has headed the project to establish the new Centre.
Designed by Cambridge architects Annand and Mustoe, the two-storey building is made up of a steel frame clad with timber and metal. It is funded by a £2 million grant from the Joint Infrastructure Fund, an initiative led by the Wellcome Trust and the UK Research Councils.
The new building has been designed around the existing Schofield Centrifuge Centre, which opened in 1986 and is named after the University's Emeritus Professor of Soil Mechanics, Andrew Schofield. Both buildings will be part of the re-named Schofield Centre, whose director will be Professor Malcolm Bolton.