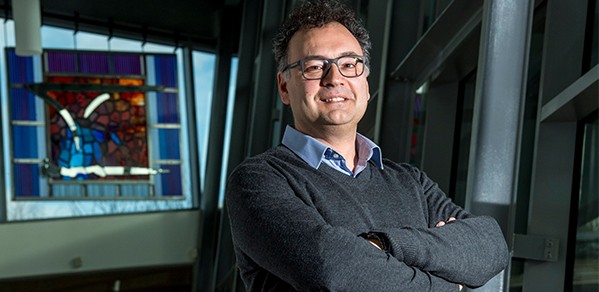 Professor George Malliaras' pioneering work in the development of organic electronic materials as novel tools for interfacing with the brain has been recognised with the 2023 Mid-Career Researcher Award.
Organic electronic materials have demonstrated compelling advantages in neural interfaces, with powerful first-in-human demonstrations.

Professor George Malliaras
The Award, presented by the Materials Research Society, is in honour of Professor Malliaras' exceptional achievements and leadership in the field, including the successful application of organic electronic materials in biology and medicine.
Professor Malliaras is Director of the EPSRC Interdisciplinary Research Collaboration (IRC) in Targeted Delivery for Hard-to-Treat Cancers and Prince Philip Professor of Technology. The IRC includes leading brain surgeons, and with their help, Professor Malliaras is pursuing the first-in-human trials of implantable drug delivery devices in glioblastoma patients1.
At the Bioelectronics Laboratory, he leads a group of scientists, engineers and clinicians who study the fundamental processes that take place at the abiotic/biotic interface and develop better tools for healthcare. Research themes include the development and translation of implantable and wearable devices that interface with electrically active tissues, with applications in neurological disorders and brain cancer.
Impact and achievements
Professor Malliaras' research impact has benefitted not only the materials community, but he has also made lasting contributions to electronics, neuroscience and medicine. 
He has achieved significant advances in the science and technology of organic electronic devices; for example, his work to boost the performance of an organic electrochemical transistor (OECT) – a device that uses mobile ions for its operation – resulted in OECTs with record-setting performance. As a result of his work, the OECTs are one of the most popular devices, currently being used by several groups for large area, printed electronics, biosensors, and implantable electronics applications, inspiring versions made using different materials including oxides. 
Professor Malliaras pioneered the use of organic electronic devices to interface with the brain. He was the first to use a transistor to record brain activity and showed that these devices outperform electrodes in neural recordings due to local signal amplification. He showed that transistors "look" deeper in the brain and, as a result, are less invasive than electrodes. 
In 2018, Professor Malliaras developed a novel brain implant that represents another advance in the development of soft, flexible electronics that interface well with human tissue. The electronic device has the potential to treat drug-resistant epilepsy, and experiments in animal models have demonstrated its ability to stop or even prevent seizures. 
And in 2021, he developed a paradigm-changing concept of electronics, electronics that are implanted using keyhole surgery, before expanding inside the body to cover large cortical areas (for example, along the surface of the spinal cord). This work combined ideas from soft robotics and bioelectronics to minimise the invasiveness of neurosurgery procedures and is attracting a great deal of attention as a potential game changer that will reduce hospital stay and increase the uptake of neuromodulation as a solution for chronic pain.
His team went on to develop an ultra-thin, inflatable device that can be used to treat the most severe forms of pain without the need for invasive surgery. The device – as thick as a human hair – uses a combination of soft robotic fabrication techniques, ultra-thin electronics and microfluidics. Early tests of the device suggest that it could be an effective treatment for many forms of severe pain – including leg and back pain – which are not remedied by painkillers. It could also be adapted into a potential treatment for paralysis or Parkinson's disease. However, extensive tests and clinical trials will be required before the device can be used on patients. 
Also among his notable successes is a new device for high resolution corticography, currently used in several clinics in the USA to provide intraoperative mapping of the brain before neurosurgery. 
Professor Malliaras said: "I am delighted to receive the 2023 Mid-Career Researcher Award. Organic electronic materials have demonstrated compelling advantages in neural interfaces, with powerful first-in-human demonstrations. The biggest challenge for this technology to reach patients at scale is manufacturing at a volume and quality consistent with commercialisation in the medical device space. Effort should now concentrate on developing facilities that enable this transition from academia to industry."
- - -
1 Glioblastoma is an aggressive form of brain tumour that is hard to treat because it comes with its own defence mechanism.