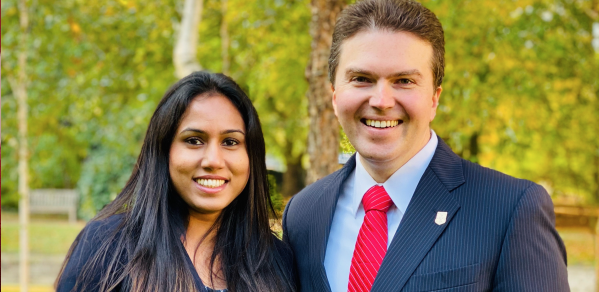 PhD student Mahendrini Ariyachandra has been announced the winner of the Best Paper Award at the 37th International Symposium on Automation and Robotics in Construction (ISARC)
It is great to receive recognition that my research has the potential for real-world applications in the future. The approach taken will be of enormous use for researchers and practitioners to efficiently generate semantically enriched digital models of railways.

Mahendrini Ariyachandra
The conference paper titled "Digital Twinning of Railway Overhead Line Equipment from Airborne LiDAR Data" authored by PhD student Mahendrini Ariyachandra and her supervisor Dr Ioannis Brilakis received the Best Paper Award (best out of 221 papers) presented at the 37th International Symposium on Automation and Robotics in Construction. This paper investigates an automated model-driven twinning process to produce geometric digital twins of Overhead Line Equipment in railways. 
Mahendrini is currently pursuing a PhD in Engineering at the Construction Information Technology Laboratory, working with Dr Ioannis Brilakis, Laing O'Rourke Reader in Construction Engineering. Together they have been developing more efficient digitisation techniques for existing rail infrastructure to facilitate timely geometric mapping. Such methods underlie many applications to address the challenges that exist in current railway twinning processes, which are now taking years rather than months before the resulting models can assist the required railway maintenance and renewals
"I'm delighted to be a recipient of this award," she added. "It is great to receive recognition that my research has the potential for real-world applications in the future. The approach taken will be of enormous use for researchers and practitioners to efficiently generate semantically enriched digital models of railways"
The annual ISARC Best Paper Awards recognise outstanding contributions to the body of theoretical or practical knowledge in automation and robotics in construction.  The awards were presented at the yearly symposium on 28th October 2020. ISARC, which started in 1984 in Pittsburgh, USA, serves as the annual meeting for the members of the International Association in Automation and Robotics in Construction (IAARC). The ISARC 2020 was held as an online symposium due to COVID-19 outbreak.
The paper Digital Twinning of Railway Overhead Line Equipment from Airborne LiDAR Data is available on the Cambridge University's Open Access repository https://www.repository.cam.ac.uk/handle/1810/309098