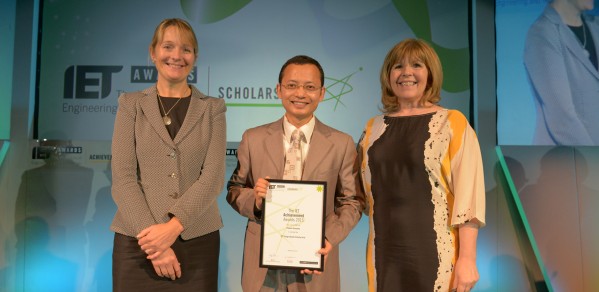 PhD student Pawan Shrestha has been awarded a prestigious Institution of Engineering and Technology (IET) Postgraduate Scholarship.
Pawan is pursuing his doctoral degree in the Photonics and Sensors Group under the supervision of Professor Daping Chu as a Schiff Scholar. The team works on high-resolution, high-speed optically addressed spatial light modulators (OASLMs), developing all-optical OASLMs they term aOASLMs and publishing a paper on high resolution OASLM based on ZnO nanoparticles as a novel photoconductor in Light Science and Applications.
Pawan's research focuses on the fabrication of OASLMs and their application to holography-based 3D display. Holography records both amplitude and phase in a hologram. When replayed, hologram diffracts the light to reconstruct the wave front of the original object, giving the viewer a sensation of looking at a real 3D object. Real-time holography has been a dream in the scientific community for few decades; however it has been very challenging to realise. However, the development of inexpensive, high-quality lasers, high-speed electronics and breakthroughs in suitable materials brings us closer to it than ever.
The Photonics and Sensors group has been working on different aspects of holography and its application for number of years in partnership with world-leading companies such as Disney, Huawei, Jaguar Land Rover and Samsung.
Originally from Nepal, Pawan completed his bachelor's degree from the Tribhuvan University, Nepal, and his master's from the University of Waikato, New Zealand, in electronics engineering.
The IET Postgraduate Scholarships aim to encourage excellence in engineering research at universities in the United Kingdom. Two such scholarships are available each year.