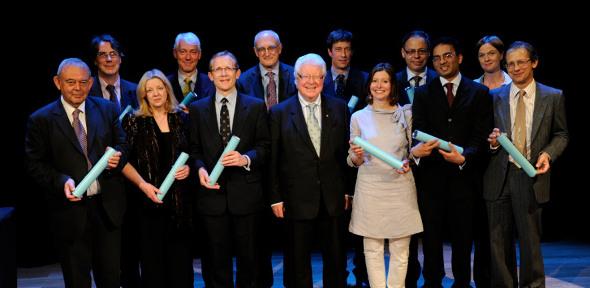 Twelve of the University's very best teaching talents have been honoured at the annual Pilkington Prizes awards ceremony.
This year, prizes have gone to individuals who have pioneered new methods of learning, those whose work on outreach programmes has been simply outstanding, or those who have shown an incredible capacity to connect with, and inspire students to achieve.
One of the prize winners, Dr Tim Minshall, is a Senior Lecturer at the Department of Engineering. Tim's teaching is remarkable in its quality, diversity and impact. He consistently achieves the highest number of "excellent" ratings for the Manufacturing Engineering Tripos, and won Best Fourth Year Lecturer in 2009.  Noted for his talent in imaginatively conveying complex ideas, Tim keeps his courses, such as "The Engineer in Society", up-to-the-minute in content and delivery, with engaging guest speakers and on-line learning tools; and he embraces difficult concepts – ethics in engineering, for example – in a way that motivates students to engage.
All of the prize winners are linked by their commitment to teaching of the highest possible quality. The Pilkington Teaching Prizes were established in 1994 by businessman and alumnus of Trinity College, Sir Alastair Pilkington. The aim was to ensure that excellence in teaching at the University was given proper recognition.
The prize winners received their awards from the Vice-Chancellor during a reception at Downing College.