A reception was held in the gardens of the Vice Chancellor's residence in Latham Road, on Monday 23rd June to celebrate the 50th year of Prince Philip as Patron of the Cambridge University Engineers' Association.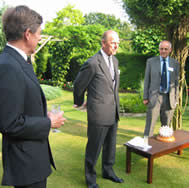 A sundial based on the CUEA logo, fashioned in stainless steel and bronze, designed by Dr Peter Long was manufactured in the Department's workshop to mark the occasion, and this was presented to His Royal Highness.
The reception followed a full day for Prince Philip, who had, in the morning, opened the new Nanotechnology building on the West Cambridge site, as well as conferring Honorary Degrees at the Senate House. In his speech at the reception, Prince Philip commented on the valuable role engineers play in society, and his appreciation at having access to some of the top experts in the field, through his association with Cambridge.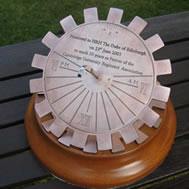 Membership of the CUEA which is free to all Cambridge graduates associated with the profession of engineering, now stands in the region of 6100. All members are entitled to receive the annual Newsletter of the Department "Enginuity" which summarises the year's events and highlights some current research areas.
The president of the Association is Viscount Montgomery of Alamein, who was present at the reception on Monday. An annual conference is held each year to which all members are invited. These conferences were instigated in 1965 in the belief that "they would result not only in the production of new ideas, but also in action which will be of positive benefit to the national economy."
This year's conference will have a biomedical theme and will be held on Saturday 27th September to coincide with the University's alumni weekend.
Speakers will include:
Dr Tom Bligh "Engineering the human genome"
Professor William Bonfield "What will your next hip be made from?"
Dr Richard Prager "Stradx: The Highest Definition Freehand 3D Ultrasound System in the World"
See http://www-g.eng.cam.ac.uk/cuea/ for more details. Enquiries:email: cuea-enquiries@eng.cam.ac.uk