The International Union of Theoretical and Applied Mechanics and Elsevier jointly announced the award of the 2020 Rodney Hill Prize in Solid Mechanics to Professor Vikram Sudhir Deshpande.
There is one thing we know we impact and that is the students we help nurture. The impact that our students will make on the world is great, and this is what I feel satisfied with every day, irrespective of my research. 

Vikram Deshpande, Professor in Materials Engineering
Vikram Deshpande is Professor in Materials Engineering at the Department of Engineering, University of Cambridge. After obtaining a B.Tech. from the Indian Institute of Technology, he moved to Cambridge University, where he received his Ph.D. in Engineering in 1998. During his distinguished career, Deshpande has made seminal contributions in mechanics of materials, ranging from the design of micro-architectured materials to modelling soft and active materials. He is the world-leading authority in his generation in the emerging subject of microstructural mechanics. His research output is prodigious, with a steeply rising profile, and he combines deep theoretical understanding with insightful experiments to unravel complex phenomena over a wide range of topics. These range from the impact on structures by the shock waves within a sand blast to the role of entropic forces in cell mechano-transduction. A number of high-profile international researchers have worked with him, and in many of these collaborations he took the intellectual lead. Deshpande's breadth of interests, theoretical and experimental skills, and general influence on solid mechanics research worldwide make him one of the strongest contemporary contributors to the field.
An interview with Professor Vikram Deshpande:
Please tell us about your career path to date.
I was an engineering undergraduate at the Indian Institute of Technology, Bombay. I came to Cambridge as a PhD student with Professor David Cebon in 1994. My research field was quite different in those days. I was in the Transportation Group, but I started working on problems in Materials. My work with David laid the foundation for my research career. After my PhD I got a Research Fellowship at Pembroke College and that is when my collaboration with Professor Norman Fleck started which has continued extensively to date. 
I spent a few years in the USA, a sabbatical at Brown University and another stint at the University of California at Santa Barbara. But other than that I have been mostly based here at Cambridge. I was appointed a lecturer in 2001 and promoted to Professor in 2010. 
During my career, I have changed my research subjects a few times.  I started in the Transportation Group, but I moved more and more into materials and mechanics. In mechanics I first started in more traditional areas e.g. energy absorbing materials, foams, engineering solids, with applications for things like blast protection and lightweight structures. Over time, I moved into small scale materials looking at things from an atomic perspective and more recently it has been mainly biological topics. 
The theme of my current research is the coupling of chemistry, biology and mechanics. Biology is a wonderful example where living systems, living cells are doing chemical processes constantly but they are being modulated by mechanical forces in a very interesting way. This is where most of my current work is. 
Can you give us a summary of your engineering role? 
At Cambridge, our teaching terms are short and packed. I teach undergraduates from the 2nd year to the 4th year and I also hold supervisions for the engineering undergraduates at my college. 
In term time it is 50/50 teaching and research, when terms end I get time to do research and have collaborations all over the world.
What inspired you into your field?
Curiosity. Something catches my imagination and I think that maybe I can tackle that problem, this is what inspires me. I started my career in transportation then I moved to materials as I saw that there were some interesting problems there. Similarly, the more recent shift into biology has been because there are so many unanswered questions with so many counter-intuitive things happening in living systems. This is what has really inspired my move. It is curiosity that really drives me. 
How did you first get involved in your specialist area? 
The University of Cambridge offers academics sabbaticals to enable us to take time away, to learn new things. During my stint at the University of California in Santa Barbara in 2008, I was in a department with people doing lots of different things. This is when I got into the field of biological problems as I started talking to people who were working on problems that I felt were terribly exciting. 
What contribution to your field are you most proud of and why?
The things I am most proud of include my initial work with Professor Norman Fleck on micro-architectured materials. We started looking at light weight topological design of materials using civil engineering as the motivator to design new materials. This was 20 years ago and that field has really evolved since those early days. Today it is one of the largest fields in Materials Science, they now call this field 'Materials by Design'. I am proud of this as we got into this research before anyone else, it is good to know that people caught onto our initial ideas. 
Of my more recent research, I would say it is too early to say whether it is going to catch on or not. Biological problems are extraordinarily complex, applying an engineering approach can simplify them to a level that they become tractable, as opposed to trying to understand all the complexity. If there is anything that engineers like me are bringing to this field it is asking the question: "Do we really need to understand this system in all its complexity or can we simplify it to a level where it becomes tractable?"
What aspect of your job gives you the most satisfaction?
I have had a series of excellent post-docs and students and it has been great to see them grow and start getting their own ideas and becoming independent. 
During my college supervisions I get to meet students in smaller groups which is always fun.
Also having a great idea, sometimes after weeks or months of thinking about a problem, that is always extremely satisfying too!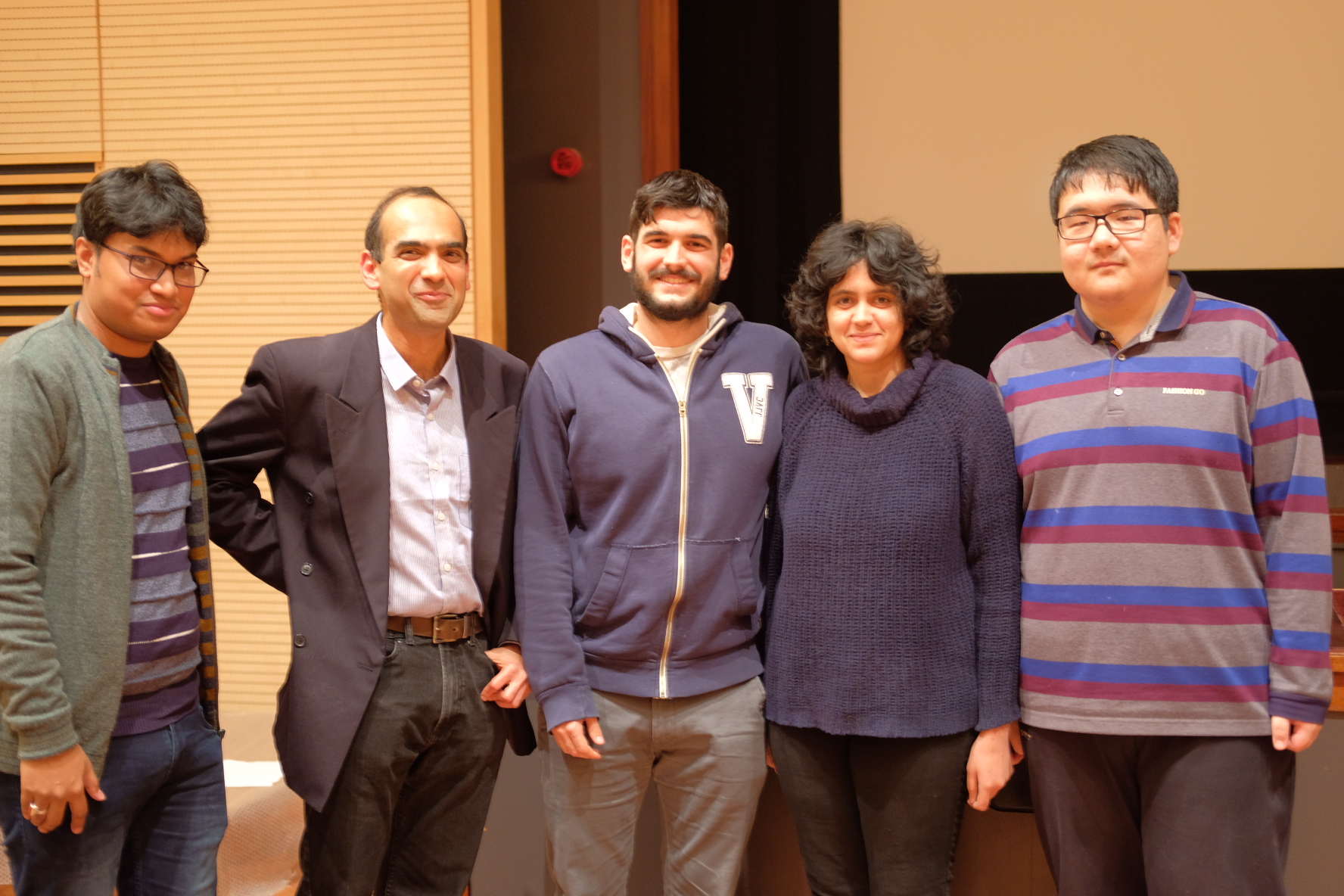 What is the most unique or interesting thing about your work? 
Many academics like me have been able to change research fields many times in our career. This opportunity to follow your interests, your curiosity and effectively do what you want to do is unique and wonderful. 
What impact do you hope your work will have on the world? 
I can't talk about my research impact as the time span for properly measuring that is long for many of the fundamental problems I work on. But there is one thing we know we impact and that is the students we help nurture. The impact that our students will make on the world is great, and this is what I feel satisfied with every day, irrespective of my research. 
What do you see as being the next big thing in your field?
The area that I am working on is the coupling of mechanical sciences, chemical sciences and biological sciences. I believe it is at the interface of these subjects that the next big breakthroughs are going to happen, and that is why I have placed myself at these interfaces. 
What advice would you give to someone who is considering a career in Engineering?
A career in engineering allows you to work on problems that will impact society. This is extremely rewarding.