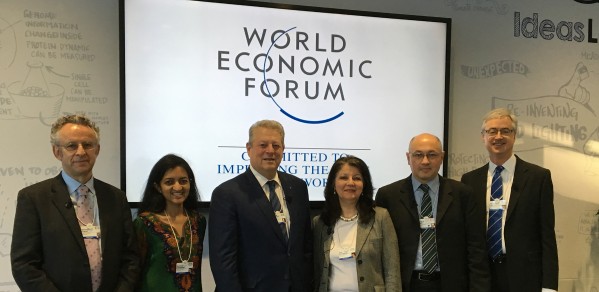 The Department of Engineering was represented at this year's World Economic Forum (WEF) Annual Meeting by Professor Abir Al-Tabbaa, Professor of Civil and Environmental Engineering, who took part in IdeasLab sessions and gender-related events.
The combination of such a broad spectrum of people and subjects coupled with the focus provided by the Forum was inspiring.

Abir Al-Tabbaa
The meeting's theme was 'Mastering the Fourth Industrial Revolution.' Klaus Schwab, Founder and Executive Chair of the WEF, said: "We stand on the brink of a technological revolution that will fundamentally alter the way we live, work, and relate to one another. In its scale, scope, and complexity, the transformation will be unlike anything humankind has experienced before. We do not yet know just how it will unfold, but one thing is clear: The response to it must be integrated and comprehensive, involving all stakeholders of the global polity, from the public and private sectors to academia and civil society."
This year's programme was designed to engage participants with more than 250 official sessions divided across four programme zones. In the Discovery Zone participants' experiential learning was brought to life by virtual reality, satellite imagery and robotics. The Collaboration Zone focused on building networks of action-oriented leaders across stakeholder groups to steward progress on the world's most pressing challenges. The Debate Zone delved into current affairs and explored the issues at the heart of today's economic and policy debates. Finally the Disruption Zone defined the paradigm shifts and conceptual breakthroughs with profound implications for industry, government and society and included the 'IdeasLab' and 'What if' debates.
The IdeasLab was a relatively new initiative at Davos: a 75 minute session in which four academics from one institution deliver themed, Pecha Kucha-style presentations followed by breakout group discussions. The University of Cambridge IdeasLab was on the theme of carbon reduction technologies and the presentations and discussions focused on how the latest advances in carbon reduction technologies will transform industries and improve the state of the world. The session ran twice: The first on Wednesday afternoon was introduced by Professor Sir Leszek Borysiewicz, Vice-Chancellor of the University of Cambridge, and moderated by Sir Philip Campbell, Editor in Chief of Nature; the session ran again on Friday morning and was introduced by former Vice President Al Gore and moderated by Professor Jim Leape, Professor at the Woods Institute for the Environment at Stanford University and former WWF Director General.
The University of Cambridge delegation consisted of
Professor Markus Kraft (Department of Chemical Engineering and Biotechnology): Decarbonizing industrial-scale processes using virtual avatars
Professor Abir Al-Tabbaa (Department of Engineering): Self-healing concrete for low carbon infrastructure
Professor Richard Friend (Department of Physics): Improving solar materials efficiency using quantum mechanics
Dr Suchitra Sebastian (Department of Physics): Quantum materials for zero-loss transportation of electricity
Professor Al-Tabbaa's presentation introduced the concept of self-healing construction materials, with a focus on concrete, and its vast implications for construction and other sectors. The context is the status quo of our crumbling infrastructures; the huge financial burden to upgrade them; and the significant global environmental impacts of concrete – the massive consumption of natural resources and the high carbon emissions from cement production.
What if concrete could be designed to look after itself throughout its lifetime? And what if we can turn the non-living concrete structures all around us into living systems? These were the questions Professor Al-Tabbaa posed to the audience in her presentation. She explained that, while advances have been made in other sectors including self-healing paint for cars and self-healing asphalt for roads, that concrete is a far more complex material, a multi-component and multi-layered system where damage occurs at different lengths and temporal scales.
Professor Al-Tabbaa unravelled the concept of self-healing concrete using analogy with the way our skin system deals with damage at different levels, drawing similarities with the process of blood clot formation to our circulatory blood system. She introduced the Materials for Life project funded by EPSRC and the various self-healing elements currently being developed under the programme. She highlighted the ongoing work on addressing challenges in the integrated configurations, in assessing their longevity and resilience and in minimising any additional initial capital cost to the concrete. She stressed the importance of collaboration with industry, presenting the project's field trials, and the much wider impact of success in this area, addressing challenges in extreme and inaccessible environments including underground nuclear repositories and in oilwell-cementing applications. She concluded that the impact of such a breakthrough would be transformative, but it will require a lot more input to make it into a commercial reality.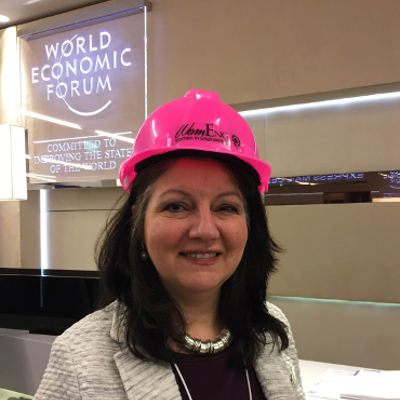 Professor Al-Tabbaa was one of only a few delegates who were selected to write for the WEF Agenda Blog, which receives 1.5 million unique visitors every month. Her blog entry relevant to the theme of how innovative technologies have the potential to lower carbon intensity of the infrastructure industry is entitled 'The concrete that heals its own cracks'.
"The WEF was such an amazing and unique experience,' said Professor Al-Tabbaa. "The combination of such a broad spectrum of people and subjects coupled with the focus provided by the Forum was inspiring."
A big item on the WEF agenda was addressing the gender imbalance at the top and at the bottom at school level in STEM subjects. A number of events took place at which international figures such as Christine Lagarde, Elizabeth Blackburn and Helen E. Clark shared their experiences.
Many other inspirational women were present. One in particular was Naadiya Moosajee, a young female civil engineer from South Africa and the Co-Founder and CEO of WomEng (Women in Engineering). She is a WEF Global Shaper and in 2014 was named as one of the 'Top 20 Young Power Women in Africa' by Forbes Magazine. For the past decade, her organisation has been working from the bottom up to inspire, mentor and empower girls in South Africa and Kenya to study engineering. Naadiya and her colleagues have worked with over 10,000 girls so far and 2014 saw their first cohort graduate as engineers. In 2016 the group will launch their programme in other African countries. An iconic part of their campaign is a pink hardhat – celebrities, engineers and others who believe in the mission have been pictured wearing the hardhat to showcase that engineering can be for girls.