A CD-ROM duplicator with the capability of producing CDs with printed labels at the rate of approximately 500 per week has recently been purchased by the Department.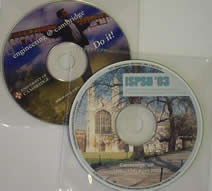 The equipment is currently housed with the Multimedia Group on the third floor of the Baker Building.
The first person to make use of the facility was Professor Gehan Amaratunga, who commissioned a batch of 325 CDs of conference proceedings for the delegates at ISPSD '03, a conference he organised in April this year.
This service is available for Departmental purposes by staff members of CUED at an internal rate. Non-Departmental applications and external users will be charged at a commercial rate.
Enquiries to Bernie Breton, T:39760, bcb@eng.cam.ac.uk, or to the Multimedia Group