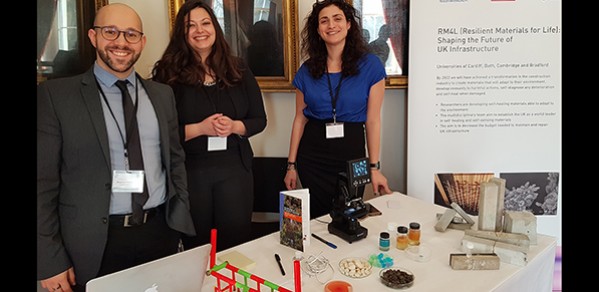 Biomimetic infrastructure materials, developed as part of collaborative research involving Cambridge engineers, have been showcased at an EPSRC event hosted by the Royal Society.
The Resilient Materials 4 Life (RM4L) programme grant was one of 14 EPSRC-funded projects selected for exhibit at the EPSRC's 'Science for a Successful Nation' showcase recently. The event demonstrated examples of the revolutionary impact of EPSRC-supported research on the UK and the world.
Dr Chrysoula Litina, the Cambridge team's lead Postdoctoral Research Assistant, together with the lead researchers from the academic collaborators at the Universities of Cardiff and Bath, presented a range of biomimetic materials, including self-healing and self-sensing systems that are being developed and researched in RM4L. They also demonstrated how biomimetic materials can contribute to ensuring the design of reliable, intelligent and 'sentient' infrastructure.
The display included marco- and micro-capsules, hydrogels, calcite precipitating bacteria, shape memory tendons, vascular networks and graphene-based sensors. Pre-prepared self-healing cement discs were also used for visual demonstration of the self-healing concept to attendees which included researchers and representatives from industry and government departments.  
Also on display was a 3D printed vascular network (in red and green) which forms part of fourth year project work by civil engineering undergraduate Charlotte Harrop. She is developing and testing different configurations of biomimetic vascular networks, based on Murray's law, for self-healing large cracks in cementitious systems.
The RM4L team highlighted how multidisciplinary research from a range of engineering and science disciplines can translate nature-inspired solutions into deliverable technology, implemented to solve some of our most pressing infrastructure challenges.
The event featured panel discussions and debates themed around EPSRC's four 'Prosperity Outcomes': Connected Nation, Healthy Nation, Productive Nation and Resilient Nation.  
About RM4L
The RM4L programme grant, supported with an investment of £4.9million from EPSRC, started in 2017. It is building on the success of its predecessor, the EPSRC-funded project Materials for Life (M4L), which has led to major advances in the development of transformative construction materials, and culminated with the UK's first ever self-healing concrete full-scale trials. This involved the installation of five retaining walls on the A465 Heads of the Valley site, facilitated by Costain, the main contractor and strategic partner of the RM4L programme grant.
The vision of the RM4L programme grant is that by 2022, construction materials will be capable of adapting to their environment; developing immunity to harmful actions; self-diagnose the on-set of deterioration; and self-heal when damaged.
The UK RM4L team are lead partners in the EU COST Action SARCOS: Self-healing As preventive Repair of COncrete Structures, working in collaboration with academic colleagues from over 20 EU countries, and lead partners in the newly established RILEM Technical Committee SHE: Self-healing concrete – its efficiency and evaluation, bringing together international academic collaborators in this fledgling and exciting new field.