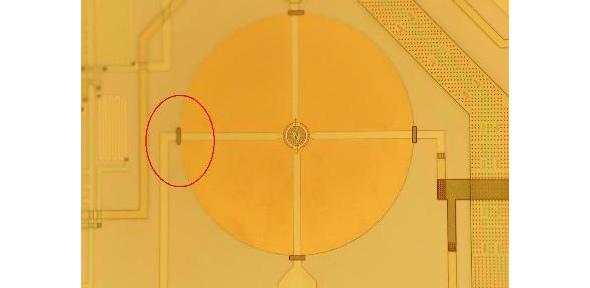 Gas sensing technology start-up, Cambridge CMOS Sensors Limited (CCMOS), has secured funding from Cambridge Enterprise Seed Funds. The company is a spin-out from the Electrical Division of the Department of Engineering and has licensed technology from the University of Warwick, and aims to commercialise CMOS-compatible gas sensors. We are very excited about the potential of Cambridge CMOS micro-hotplate technology.
We are very excited about the potential of Cambridge CMOS micro-hotplate technology.

Professor Julian Gardner
Dr Nick Slaymaker, Investment Manager at Cambridge Enterprise Seed Funds, said: "By using CMOS technology, which is used in microprocessors and other digital logic circuits, gas sensors can be developed based on a miniature heating element (micro-hotplate) design which is fully compatible with CMOS. By using this technology gas sensors can be miniaturised, produced at higher volume, cheaper and retain good thermal behaviour. I am especially pleased that one of the founders, Professor Florin Udrea is also a co-founder of CamSemi, one of our most successful investments, and he has come back for investment in a brand new spin out".
The CMOS sensors employ high-temperature tungsten MOSFET heaters embedded in a silicon on insulator (SOI) membrane. These effectively form a micro-hotplate that heats the sensing material, allowing it to react with gas molecules. Crucially, CCMOS' MOSFETs can be fabricated in a commercial SOI-CMOS process and therefore can be fully integrated with the associated drive/detection circuitry. CCMOS expects its technology to significantly improve upon existing gas sensors, which tend to be high cost, due to their semi-automated manufacturing methods, and consume more power than is ideal for portable instrumentation.
Current applications for gas sensors include smoke alarms, laboratory analysis, medicine, automobiles, and industrial safety. However, the company envisages many more applications for silicon-based micro-gas sensors as a result of their small size and lower manufacturing cost. For example, the constant and accurate monitoring of airplane cabin air quality, especially on long haul flights is challenging. The airline industry wants to continue improving passenger's flight experience. CCMOS's sensors can test very accurately, for carbon monoxide which is colourless, odourless and very toxic.
The company's founders are Professor Florin Udrea, also a co-founder of CamSemi; Professor Julian Gardner, a Professor of Electronic Engineering at Warwick University; and Professor Bill Milne, Head of the Electrical Engineering Division here at Cambridge University and Director of Centre for Advanced Photonics and Electronics. The three academics have worked together for 15 years and have a successful record of transferring research to industry. They have carried out collaborative research and development projects in the area of microsensors and nanotechnology with many companies and have previous start-up company experience.
Professor Gardner commented: "We are very excited about the potential of Cambridge CMOS micro-hotplate technology. Our devices can heat up from room temperature to 700 degrees celsius in just a few milliseconds and have ultra low power consumption suitable for battery-operated devices - sub milliwatt when driven in ac mode and at 400 degrees. We envisage numerous applications of our micro-hotplates (with integrated circuitry/readout) ranging from chemical micro-sensors (e.g. toxic gases) to physical sensors (e.g. infra-red cameras). The technology is ideal for high volume and low unit cost products and will help drive forward the emerging field of ubiquitous sensing."  Asked what the next step is, Professor Gardner said: "We will develop prototypes, find commercial partners and licence technology."