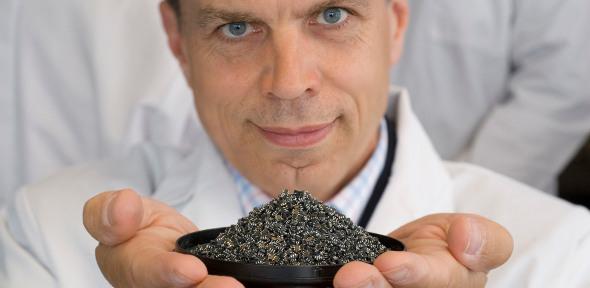 CamSemi a spinout company from the Department of Engineering has picked up another major industry award, within a matter of months of being named as 'University Spin-out of the Year', in the New Energy Awards 2009. CamSemi, founded by Professor Gehan Amaratunga and Professor Florin Udrea, has been awarded the 2009 Carbon Trust Innovation Award in the buildings category, in recognition of the company's innovative power management integrated circuits (ICs) and their potential to cut the energy consumed within buildings.
The Carbon Trust Innovation Awards was founded in 2003 to recognise 'cleantech champions' and success stories from the UK's rapidly growing low carbon economy. A panel of independent experts from government, science and business judge each entry for genuine innovation, carbon saving potential and commercial opportunity.
The article below highlights just how CamSemi's technology works, it is written by Jeremy Webb for New Scientist.
One of the weirder facets of home life is the sheer proliferation of power supplies and chargers - a quick survey of my house revealed 22 of them. These devices are none too environmentally friendly: many waste half the energy they consume as heat. Finding smart ways to cut this waste won Cambridge Semiconductor, or CamSemi for short, its Innovation Award.
Started in 2002 as a spinout from the Department of Engineering, CamSemi designs bespoke chips to control power supplies. One device it launched in 2007, a controller with the catchy title C2470, now sits in power supplies that are 86 per cent efficient and are being sold with many routers, modems and cordless phones. The company's latest creation, the C2160, controls the world's first mobile-phone charger to meet new standards for ultra-low power consumption.
Power supplies and the transformers built into them need to be small and light. But transformers can be small only if the frequency of signal they are fed is high. So modern power supplies generally convert mains electricity into direct current (DC) and then chop this up using a switch operating at around 60 kilohertz - far higher than the 50 hertz of the mains supply. The resulting on-off signal is passed through the transformer to reduce its voltage, and is then smoothed out to give a DC supply at anything from 5 to 20 volts.
What's novel about chargers featuring the C2470 is that they have fewer components than usual and are intrinsically efficient. Rather than a switch, they employ a natural oscillation, or resonance, in the input circuit to switch the DC on and off. Also, they need no feedback from the output circuit to regulate the final voltage. These tasks are managed by algorithms built into the controller. Voltage and current sensing allow it to keep the input circuit resonating sweetly and to predict the output voltage. "It's like fly by wire in an aircraft," says Nigel Heather of CamSemi. "Unless the computer keeps tweaking here and there continuously, the plane crashes from the sky. It's the same with our controller: it takes something inherently unstable and makes it stable."
Sensing and regulation are also key to the C2160. But what's really making waves here is the fact that the charger built around the controller consumes only 23 milliwatts when not plugged into a phone, versus 150 milliwatts or more for its competitors.
Better mobile phone chargers alone are not going to stop global warming, but are a step in the right direction. Heather reckons it all adds up to an efficiency mindset. "I love the CamSemi solution," says Dick Strawbridge, a television presenter, eco-engineer and one of the judges of the awards. "In the 1780s, Edmund Burke said,'No one could make a greater mistake than he who did nothing because he could only do a little. ' CamSemi is a classic example of a company that has done a little that will add up to a lot."
CamSemi is not resting on its laurels. It is aiming to cut the "no load" output of phone chargers to just 10 milliwatts. And there are plenty more power supplies built into home and office equipment that could do with improvement. "This award will help increase our profile and build our brand equity," says Heather. "That can only be a good thing."
The Fourth Carbon Trust Innovation Awards brochure can be downloaded as a PDF document: here
CamSemi was previously named the 2008 Start-up of the Year by The National Microelectronics Institute and was also short-listed for two Business Weekly 2008 awards.